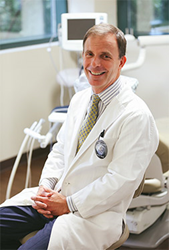 Winston Salem, NC (PRWEB) December 28, 2016
Patients who are in need of treatment of their peri-implantitis can now turn to Dr. Kenneth Peavy, a periodontist in Winston Salem, NC. Dr. Peavy utilizes laser dentistry to help patients save their dental implants with a procedure known as the LAPIP™ protocol. Using a precise laser, Dr. Peavy performs the protocol to help the gums and supportive tissue once again adhere to an implant, restoring function and preventing further infection and loss.
Peri-implantitis occurs when bone and supporting tissue begins to degrade around an implant that has already integrated fully into the jaw bone. It is similar to periodontal disease that affects regular teeth. As a Winston Salem, NC periodontist who has practiced for over 27 years, Dr. Peavy knows that, just as the teeth are susceptible to infection under certain circumstances, implants can also become loose or fall out if infection around the roots of the implants is not properly treated. Laser dentistry is often the best option.
Dr. Peavy recommends that many of his patients undergo the LAPIP protocol when they present with peri-implantitis. This is a minimally-invasive laser dentistry procedure that Dr. Peavy performs by using a laser to vaporize infected tissue, bacteria, and contaminants in the soft tissue around the implant.
Patients with peri-implantitis should seek treatment from a periodontist in Winston Salem, NC immediately. Contact Dr. Peavy's office to schedule an appointment by calling 336-774-3001.
About the Doctor
Dr. Kenneth Peavy is a periodontist offering personalized dental care for patients in Winston Salem, NC, since 1996. Dr. Peavy completed his undergraduate studies at the University of North Carolina at Chapel Hill. He earned his dental degree at the Medical University of South Carolina in 1989, College of Dental Medicine. He finished his residency program in General Dentistry at the Medical College of Georgia and his certificate in periodontics at the Medical University of South Carolina. He also earned his Master's Degree in Health Sciences. Dr. Peavy joined an exclusive group of doctors to offer The Chao Pinhole® Surgical Technique (PST™) for gum recession treatment. To learn more about Dr. Peavy and his dental services visit his website at http://www.happygumshop.com and call (336) 774-3001.