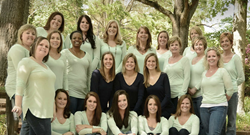 (PRWEB) December 28, 2016
Patients with gum disease in Rock Hill, SC, can now receive treatment from Drs. Jennifer Houck, Lauren Smith, and Heather Johnson with India Hook Dental Care, without a referral. Over 64 million Americans have mild to severe gum disease. Drs. Houck, Smith, and Johnson understand that in order to prevent further health issues, patients must seek a dentist for experienced periodontal treatment. As a result, they have been trained in the latest gum disease therapy and periodontal techniques to ensure lasting and effective treatment.
Although gum disease is a widespread issue, many patients may be unaware that they have a problem and therefore do not seek the help of a dentist when symptoms first appear. Some of the most common symptoms of gum disease include:

Persistent bad breath
Puffy, red, and swollen gums
Bleeding gums
Gum recession
Loose teeth
When patients fail to receive treatment, they put both their oral and overall health at risk. When left untreated, gum disease can progress to periodontal disease, which can cause a breakdown in the supporting structures of the teeth and result in loose or lost teeth. However, the condition can also become a systemic issue throughout the body, with bacteria traveling through various organs and causing inflammation and other serious conditions. Pregnant woman are at a higher risk of premature deliveries and low birth weight babies if they have periodontal disease. Untreated gum disease has also been associated with stroke, heart disease, diabetes, and cancer.
Since the conditions associated with untreated gum disease are so serious, it is vital that patients with gum disease in Rock Hill, SC, receive care from a highly skilled and experienced dentist. That is why India Hook Dental Care offers regular periodontal maintenance care and scaling and root planing, in addition to gentle laser gum disease therapy.
Those who would like to learn more about how Drs. Houck, Smith, and Johnson treat gum disease in Rock Hill, SC, are invited to contact the doctors' office to schedule an appointment. New patients can call India Hook Dental Care at 803-324-7640.
About the Practice
India Hook Dental Care is a general and cosmetic dental office offering personalized dental care to patients in Rock Hill, SC. The entire team takes pride in putting a smile on each one of their patient's faces and understands that staying up-to-date on the latest advancements in dentistry will help them provide the highest level of care. To learn more about the doctors and team at India Hook Dental Care, or the services they offer, please visit their website at http://www.indiahookdental.com or call (803) 324-7640 to schedule an appointment.