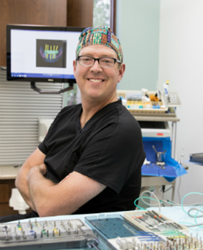 Eau Claire, WI (PRWEB) December 28, 2016
New patients in need of bone grafting in Eau Claire, WI, can now receive experienced treatment from Dr. Bruce Trimble, a respected and trusted dentist, with or without a referral. Bone grafting is sometimes required when a patient leaves a missing tooth untreated for too long or when advanced periodontal disease leads to excessive loss of bone in the jaw. Patients who wish to receive dental implants but do not have sufficient bone mass to qualify for the procedure may be eligible to undergo bone grafting procedures.
Dental implants have quickly become the gold standard in tooth replacement solutions and they can last a lifetime if cared for properly. Implant posts made from durable titanium are placed directly into the jaw bone during the implant placement procedure. In order for the procedure to provide both immediate and long-term successful results, the jaw bone must be sufficiently dense to support the implant. Unfortunately, not all patients have sufficient jaw bone density to qualify for dental implants. In these cases, they may need to undergo bone grafting in Eau Claire, WI, before they can be considered for implant procedures.
Bone mass in the jaw can be affected by a variety of factors, including periodontal disease, genetics and untreated tooth loss. When lost teeth are left untreated for a period of time, the bone in the jaw directly beneath the empty tooth sockets begins to degrade due to lack of stimulation from tooth roots. Severe degradation of the bone can also lead to changes in patient's facial structures and an altered appearance. Dr. Trimble now offers bone augmentation to combat the effects of bone loss and make it possible for patients to receive dental implants as well as maintain proper oral health.
Patients in need of bone grafting in Eau Claire, WI, are invited to meet with Dr. Trimble, experienced dentist, to find out if they are candidates for bone augmentation procedures. Appointments can be scheduled by calling Trimble Dental Excellence at 715-235-1108.
About the Practice
Trimble Dental Excellence is a general practice offering personalized care for patients in Menomonie, WI. Dr. Bruce Trimble offers a variety of services, including advanced dental implants and sedation dentistry. Dr. Trimble is a graduate of the University of Minnesota and has dedicated his professional career to providing you with the best that dentistry has to offer. He is continually educating himself and his staff on the newest techniques and advances to offer you state-of-the-art, antiseptic, personalized & comfortable dental care. Dr. Trimble is a fellow of the International Congress of Oral Implantologists & the Misch International Implant Institute. He is also among the few dentists in Wisconsin who are licensed for IV sedation and has received a certificate from the Temple School of Dentistry for Surgical Oral Implantology. To learn more about the services offered at Trimble Dental Excellence, please visit their website, http://www.trimbledental.com or call (715) 235-1108 to schedule an appointment.