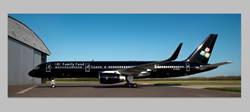 "We are excited to offer this unique, premier event to select guests who are interested in learning more about this exciting new market, while at the same time enjoying a ultra-exclusive six-star luxury travel experience" says L. Gregory Loomar, Esq., CEO
Ft Lauderdale, Florida (PRWEB) January 04, 2017
Ancillary Business Consultants, Inc., a professional business advisory service and CannaServe™, in association with the ABC Family Fund, Inc., (ABCFF), which provides assistance to children afflicted with severe forms of epilepsy, announced today an ultra-exclusive private jet tour for participants to learn about the enormous potential and opportunities occurring in the rapidly emerging legal cannabis and related business markets.
The ABCFF private Boeing 757 executive configuration jet will transport 50 guests on a unique 8 night travel adventure featuring 6-star accommodations, dining and select events with leading cannabis and related industry pioneers. Pairing prime cannabis strains with gourmet dining, this trip will include lectures by industry experts, tours of state-of-the-art facilities for cultivating, processing and distributing the finished product and the opportunity to meet some of the new leaders in the industry. The current itinerary includes the cannabis-compliant US states of Colorado, Washington and California as well as Toronto, Canada, where the Canadian pharmaceutical approach to cannabis will be showcased.
"We are excited to offer this distinct, premier event to select guests who are interested in learning more about this exciting new market, and at the same time enjoying an ultra-exclusive six-star luxury travel experience" says L. Gregory Loomar, Esq., CEO of Ancillary Business Consultants.
This innovative ABC Family Fund (ABCFF) Jet Tour leverages two rapidly expanding markets — the legal cannabis industry and luxury travel , which is the fastest growing sector in leisure travel. The event is targeted at high net worth individuals who want to learn more about potential investment opportunities in the cannabis and ancillary business market space, while experiencing an unparalleled, luxury vacation. Many high net worth clients are passing up long journeys to Europe and are instead looking for quick adventures closer to home. Coupled with the tremendous interest and evolution of the legal cannabis and ancillary business markets to a much higher branding scenario, the ABCFF Jet Tour presents a novel and incomparable travel experience.