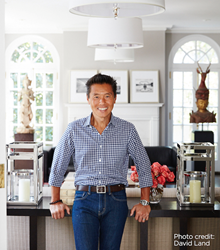 Salt Lake City, Utah (PRWEB) December 28, 2016
The 2017 Salt Lake Home Show opens its doors on Friday, January 6, 2017 and continues through Sunday, January 8 at the South Towne Expo Center. This year, the Home Show team welcomes Vern Yip of HGTV's Design Star for two presentations on Saturday only. Also, Alana and Lex LeBlanc, sisters and stars of HGTV's Listed Sisters, join the celebrity guest lineup.
Well known for his appearances on many hit television shows, including HGTV's Design Star, TLC's Trading Spaces, and NBC's Home Intervention, Vern Yip has influenced the interior design and architectural fields for years. With the release of his new book, Vern Yip's Design Wise: Your Smart Guide to a Beautiful Home, anyone can access his design tips and insider knowledge. At the Home Show, Yip plans to share his approach to design on any budget. Home Show guest can catch Yip on the Design Stage presented by Xfinity® on Saturday, January 7 at 11:30 a.m. and 1:30 p.m.
Also, Alana and Lex LeBlanc, real estate pro and interior design expert, of HGTV's Listed Sisters will appear on the Design Stage on Friday, January 6 at 7:00 p.m. and Saturday, January 7 at 12:30 p.m. and 2:30 p.m.
This year, the Home Show will feature the Upcycle Chair Challenge. Six local bloggers will showcase their design skills to upcycle used chairs using Vern Yip's Calico fabric collection. The chairs will be on display throughout the weekend. Also, Home Show guests have the opportunity to gather inspiration from the Tablescapes feature and vote for their favorite table setting. Finally, Nettie Frank, owner of Silver Whisk Catering and creator of Beyond Glazed Doughnuts, will share her favorite budget-friendly family meals on the Kitchen Stage presented by Inspiration Kitchen & Bath Designs.
The Salt Lake Home Show
Dates:
Friday, January 6, 2017 2:00 p.m.–9:00 p.m.
Saturday, January 7, 2017 10:00 a.m.–9:00 p.m.
Sunday, January 8, 2017 11:00 a.m.–6:00 p.m.
Location:
South Towne Expo Center
9575 South State Street
Sandy, Utah
Admission:
Adults (at the door) $11.00
Adults (online only) $9.00
Seniors $8.00
Children Ages 12 & under FREE
Group tickets (20 or more) $8.00
Teacher Appreciation and Hero Day: All active and retired military, first responders, and teachers qualify for one FREE ticket with a valid ID on Friday, January 6, 2017.
For more information and tickets, please visit SaltLakeHomeShow.com.
About Marketplace Events
Marketplace Events creates vibrant expositions connecting enthusiasts with experts, products and services in dynamic face-to-face environments. The company produces 46 shows annually in 23 markets including: 31 home shows in the US, 13 home shows in Canada and two Holiday Boutiques. The 46 events collectively attract 14,000 exhibitors, 1.5 million attendees and another 1.5 million unique web visitors annually. From 12 offices, the 113-person staff produces some of the most successful and longest-running shows in North America, including market-leading home shows in Montreal, Vancouver, Calgary, Minneapolis, Philadelphia and Washington, D.C.—some of which have thrived in their markets for more than 75 years. http://www.marketplaceevents.com