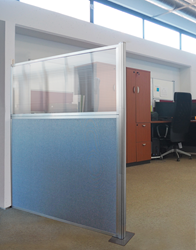 Versare's new wall-mount cubicle bracket provides increased flexibility for saving space in offices and call centers.
Minneapolis, MN (PRWEB) December 30, 2016
Versare Solutions has made updates to its popular Hush Panel DIY Cubicle Partition System to better benefit offices and call centers. New wall-mount bracket options allow cubicle panels to be connected directly to walls, while new grommets enhance connectivity and stability between posts.
Versare's Hush Panel Configurable Cubicle System is built around a plug-and-play design, where customers choose the amount of panels and posts, then slide together to create any desired arrangement. Businesses looking to create call centers, or working within limited office space, often request privacy panels that mount directly to the wall. Versare's answer is the new Hush Panel Cubicle Wall-Mount Brackets, which allow each panel to connect directly to the wall. This ensures greater stability while offering a way to save office space. Each bracket screws into the wall, while the cubicle panels and windows slide in, ensuring the same ease of setup. Many traditional cubicle partition installations can take multiple hours or even days and require a third-party installation company, thus leading to Hush Panel Cubicles' popularity. Versare's Hush Panel system can be constructed in minutes and mounted and flushed against a wall creating space and increasing cubicle layout options.
In addition to the enhanced mounting capabilities, Versare has added grommets to strengthen the connection between panels without hampering the desirable slide-and-go design. The new grommets, included with each order, strengthen the support between each post, while retaining the same look and design. The grommets slide between each cubicle post, aligning and ensuring straightness for each post.
The majority of cubicle dividers on the market require a variety of tools, pieces, and time to set-up. The complex construction of modern cubicles commonly involves a team for setup. Additionally, a commonality for businesses is to end up unnecessarily expanding and modifying their existing office spaces in order to accommodate their cubicle dividers. Versare's Hush Panel system was designed as a space-saving alternative that would allow for easy changes due to its plug-and-play nature. Hush Panel cubicle arrangements can be expanded by adding panels and posts accordingly. This relatively simple nature can involve only one person for setup, and no tools are required. For businesses who are dealing with a noisy office environment, Hush Panels can be ordered with acoustical fabric with a 0.65 NRC rating, which helps dampen sound and eliminate echo. The new grommets and wall-mount brackets add to the configurable nature of Versare's cubicle partitions, allowing effective integration within an always-changing office environment.
About Versare:
Versare Solutions, LLC. is a Minneapolis-based manufacturer and retailer of room dividers, cubicles, privacy screens, sound panels, portable barricades, and portable acoustical products. Versare handles the manufacturing and shipping of all products directly from their MN headquarters, with most products being built in the USA. Co-founders Robert Jantschek & Jeff Ryan initially created the company to offer a more lightweight, durable, and sturdy room divider than what had previously been found on the market. Their selection of products has grown over the years to include a wide array of portable barricades, configurable office cubicle partitions, economical fabric dividers, and outdoor wicker privacy screens.