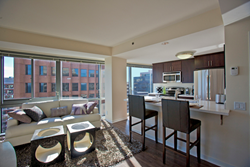 San Diego, CA (PRWEB) December 30, 2016
It is an exciting time to be part of Regency Corporate Living. The company is growing and is looking to develop a presence that can be felt in the corporate housing world. James Theophilakos, has been named The Director of Client Services and Lucy Delgado has joined as Vice President of Client Services with Regency Corporate Living, headquartered in San Diego, CA.
James Theophilakos, CRP, a professional with more than two decades of diversified experience within the global relocation services industry has joined Regency Corporate Living as Director of Client Services for Regency. Previously, James held leadership roles encompassing both account management, client relationship and service management both on and off site for third party relocation and real estate service providers as well as global corporations. "With his reputation as a strong leader, James is a perfect fit for Regency," Harvey Council, newly appointed COO of Regency, said. "He possesses a strong commitment to his work and he has a history of providing excellent service to his client's and colleagues. As Regency continues to expand nationally, James possesses the entrepreneurial spirit and commitment to excellence necessary to be highly successful in this new role."
Lucy Delgado, CRP, GMS, as Vice President of Client Services, Lucy will be responsible for the overall support, retention and growth of new and existing client accounts. After 19 years in the Corporate Global Mobility world, her position with Regency will provide unique opportunities and rewards by utilizing her expertise in the global mobility world to provide outstanding service to our clients. "We are thrilled to have Lucy's experience, knowledge and talents on the Regency team," says Harvey Council COO for Regency Corporate Living. "We are growing, and part of our growth can be attributed to the attraction of such great talent."
For more information on Regency Corporate Living, visit http://www.RegencyCorporateLiving.com or call (855) 4 Regency.
About Regency Corporate Living
With locations across the United States and offices in all of the major markets in California, let Regency customize housing for you. Regency Corporate Living aims to be the pioneer within the corporate housing industry. Our evolutionary abilities have given us the power to truly Customize every corporate apartment to the needs of every resident. Let us showcase how we've given our clients the very unique ability to effortlessly choreograph the design of their home. Regency has found a way to offer our luxury accommodations at an affordable price that is customizable.