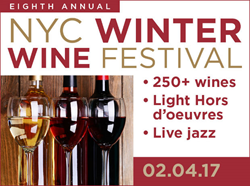 The PlayStation Theater accommodates an expansive presentation of wine, artisan food and lifestyle tables plus features a superb stage for our live jazz performances... With over 250 wines to taste, it's the perfect respite from the chill of winter.
New York, NY (PRWEB) January 04, 2017
New York Wine Events is pleased to announce that the 8th Annual New York City Winter Wine Festival featuring over 250 wines curated by the experts of Vintry Fine Wines will return to Times Square at the PlayStation Theater (formerly The Best Buy Theater) on Saturday, February 4, 2017. General admission sessions will be held at 3:30-6pm and 8-10:30pm. A special Premium Early Access ticket offers guests the option of walking the extensive food and wine event one hour earlier, commencing at 2:30pm for the afternoon session and 7pm for the evening.
The New York City winter wine tasting will feature an extensive array of wines from around the globe, spirits, light accompaniments including hors d'oeurves and cheese and cracker selections, plus numerous artisan food tables sampling oils, dips and dressings, chocolates, charcuterie, baked items, cheese, and other specialty foods. Guests will also enjoy live contemporary jazz performances during each tasting session by acclaimed musicians Brian Simpson (keyboards) and JJ Sansaverino (guitar), plus take home a custom wine glass post-event.
Wine tasting tables located throughout the venue will feature an eclectic mix of dry, fruity and round red wines, crisp, buttery and smooth white wines, plus some refreshing sparkling selections. Guests will experience grape varietals from old, new and emerging wine regions from around the globe including France, Italy, Spain, South America, South Africa, Australia, New Zealand, the United States, and more. New York State wines will be showcased at the event as well and on sale by the bottle to enjoy at home.
A VIP Ticket option (limited to 50 people per session) includes early access to the main tasting plus admission to a private VIP wine tasting suite. The exclusive suite features 10 high-end wines plus premium passed hors d'oeuvres including Filet Mignon with Yukon Gold Potato and Bernaise Sauce, Miniature Maine Lobster and Shrimp Rolls on Brioche, Tuna Tartar with Pickled Cucumber and Wasabi Caviar, Pate de Mousse de Fois Gras with Cranberry Compote on Ficelle, and Smoked Salmon Mousse and Smoked Salmon Caviar on a Savory Homemade Crisp. Wines will include stellar selections from Bordeaux, Rioja, California, Tuscany, Argentina, and Champagne.
"The PlayStation Theater accommodates an expansive presentation of wine, artisan food and lifestyle tables plus features a superb stage for our live jazz performances," notes Sam Kimball, founder of New York Wine Events. "The Times Square vibe has always made the New York City Winter Wine Festival -- our largest event of the year -- a very New York experience. With over 250 wines to taste, it's the perfect respite from the chill of winter."
Keyboardist Brian Simpson has been the 'go-to' man for many top artists in jazz, R&B, and pop including Janet Jackson, the late Teena Marie, and more. As a working jazz musician, he has toured with some of the greats of recent jazz history including George Duke, Stanley Clarke, Larry Carlton, Kirk Whalum, and Jonathan Butler. Brian served as the musical director for jazz saxophonist Dave Koz for nearly 20 years, and for a decade, as Musical Director of the "The Smooth Jazz Cruise." He was honored with the American Smooth Jazz Keyboardist of the Year Award in 2013. Guitarist Joe "JJ" Sansaverino has reached millions with his music, touring the US, Canada, Europe, Africa, Asia, the South Pacific and the Caribbean. He has worked with the best in the business; both live and in the studio, has appeared on hundreds of recordings, and was lead guitarist for the group Maxi Priest throughout the early 2000s. JJ's music features diverse guitar styles including R&B, jazz, rock, fusion, and his trademark ballad style.
New York Wine Events' popular New York and New Jersey wine festivals have drawn sold out crowds for more than a decade, and the 2017 New York City Winter Festival event is slated to do the same. Once again, participating artisanal food companies will feature items for guests to purchase and enjoy at home. Lifestyle vendors selling jewelry, cutlery, and wine-centric objects will be displaying and selling as well.
Sponsors and artisanal food purveyors to date include Alexian Pate, Bache-Gabrielsen Cognac, Barefoot Wine & Bubbly, Brotherhood – America's Oldest Winery, Buli Extra Virgin Olive Oil, Drunken Fruit, Fulkerson Winery, Garlic Expressions, Green Mountain Energy, Immune Schein, Karen Grace Designs, Kelly + Jones Fragrances, Ma Lung Winery, Pazdar Winery, Peeled Snacks, Salsa Di Parma, Subtle Tea, Sweetzer Cellars, The Virgin Olive, The Wining Hour, and Yankee Folly Cidery. More sponsors, wineries, and artisanal food companies will be added in the weeks ahead.
Tickets are on sale now, priced from $64 to $235, depending upon ticket level and time of purchase. Check the web site for details about limited time early purchase discounts, 15% savings for groups of 10 or more, and the Taste VIP membership program benefits including complimentary event tickets and discounts. Advance purchase for the February 4th Times Square wine event is highly recommended.
For complete details and to purchase tickets to the NYC Winter Wine Festival, visit NewYorkWineEvents.com.
About New York Wine Events
New York Wine Events hosts elegant wine tasting events at first class venues in New York City and Northern New Jersey. The company's goal is to provide a wine tasting experience that allows guests to sample as many diverse wines as possible while enjoying great music and the company of other wine lovers. Visit NewYorkWineEvents.com.
About Vintry Fine Wines
Vintry Fine Wines brings fine wine to NYC's revitalized downtown. With 2,500+ selections focusing on both collectibles and drinkables, Vintry is a destination in bourgeoning Battery Park City. Featuring iconic design marrying classic and modern elements by architecture firm Rogers Marvel, this indicates what the store is all about: the best wines from both old and new world regions. Visit VintryFineWines.com.