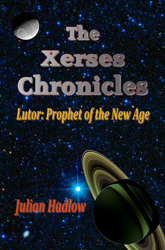 This series can be read in several ways. As a Sci-Fi tale, a story of human evolution, one family's journey, or a message for our times.
Tarzana, CA (PRWEB) December 29, 2016
Lutor: Prophet of the New Age is the first book in a three-part series by British author Julian Hadlow. The story begins when the protagonist Lutor Levinson is born to a new species of human. His parents, Rex and Anna are aware that he is unique, but attempt to play this down. He joins the military as a young man, becoming a "Fireball Nudger," where his mystical abilities are brought to the forefront. His duties include deflecting asteroids set on a collision course with the many inhabited bodies in the solar system.
Lutor is discharged from the Space Corps after receiving serious injuries. Later he and his wife Dena, and a small group of friends search the forests of South America for buried treasure. While they do not discover anything of much value, they find many manuscripts and other artifacts underground.
While still in the forest, Lutor accidentally makes contact with an enlightened being in a higher realm who guides him in his future role as prophet. Subsequently, Dena is found dead in their house causing Lutor to wander the globe in search of the meaning of life.
These incidents prompt Lutor to rediscover a supremely powerful energy once used in the deep past. He becomes the eyes and ears for this intelligent power, obliterating the military might of the previous human species, thus opening the way to future progress.
Lutor is totally human, struggles with his role as prophet, but is aided by Ariadne, Queen of the Age who along with her advisors anticipates his prophethood. She is so certain of his future role that she sacrifices her own lineage in favor of his new genetic line.
Volume II is the story of Lutor's illegitimate daughter Bodekka. Initially, she tries to emulate her father's masculine methods, so she undergoes full military training, eventually becoming an Admiral in command of a Starship. However, it isn't until she uses her feminine wiles that she is able to halt humankind's slide back into oblivion.
Volume III concentrates on her twin children, Boas and Qila who are among the first to lead a truly interstellar lifestyle, calling no single planet home. The duo eventually succeed in restoring balance once again to humanity, including the numerous anarchic colonies surrounding the nearby suns.
Toward the end of each volume, there are question and answer sessions on the nature of the universe and other deeper mystical matters, given by the differing protagonists.
Lutor: Prophet of the New Age is available on Amazon.com: http://viewbook.at/xerses in a paperback and Kindle version. For further information: The Xerses Chronicles website: http://www.xerseschronicles.com/ Facebook: http://www.facebook.com/xerseschronicles/. Goodreads: http://www.goodreads.com/book/show/22351912-the-xerses-chronicles. Twitter: @JulianHadlow.
Volume II Bodekka: Daughter of Lutor and Volume III, Boas and Qila: Children of Bodekka are due for release in 2017.