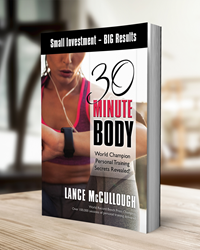 I have combined the science and art of training into my unique health and fitness program that is Quick, safe, efficient and effective. - Lance McCullough
Upland, Ca. (PRWEB) December 31, 2016
The "30 Minute Body" (ISBN 978-0-692-79189-9) available in paperback, is based on author Lance McCullough's personal experience as a world champion bench press weight lifter. With over 100,000 certified personal training sessions with clients, Lance combines personal experience, knowledge and results in the pages of the "30 Minute Body." Realizing that the health and fitness industry will never change the obesity, diabetes and out of control healthcare cost issues, Lance decided to share a program that works to help combat these issues. The Fitness Results Training system discussed in "30 Minute Body" has the potential to help change lives. The system starts with the just-introduced "30 Minute Body" book that is fun and easy to understand while covering diet, nutrition, health and fitness. It includes safe, fun, effective and efficient exercises and workouts, including stories of past clients to motivate and inspire the reader. Included in the "30 Minute Body" is a step-by-step guide with recommendations on workouts answering the what, when, how many and how much rest in between sets. Workouts are constantly evolving, never allowing complacency; progress and goals will be shown to keep motivation. The training system is the next best thing to having a personal trainer, all from the convenience of a phone and any workout location. It can be used by youth and seniors; amateur and professional athletes training for a variety of sports; for the aging; for Baby Boomers, Gen Xers, Millennials and Post-Millennials.
Working with local colleges to offer their students internships at Fitness Results is how Arnita Champion working at Mt. SAC in the Career and Transfer Services Department as job developer found out about the Fitness Results Training System, Arnita also competed at NPC National figure competitions, has a bachelor's degree in Psychology and a Master's in Education/Counseling, also is a National Council Certified Personal Trainer, which made her a great candidate as a test subject for the training system.
"The 30-Minute Body & Fitness Results Training System changed my body and my life! It launched me from being a NPC national figure competitor to winning an IFBB Pro Card to becoming an IFBB Professional Figure competitor. Before the 30-Minute Body, I was stuck in a competitive level and unable to earn my pro card. In only 6 weeks, with less work and stress, I was a winner at a new competitive level. It seems too good to be true, but it works!"
— Arnita Champion, IFBB Master Pro Figure Competitor and fitness blogger
The 30 Minute Body book and the Fitness Results Training System is ready to reeducate Americans on true health and fitness practices reversing current misleading and harmful ideas by accomplishing the challenging task of making a positive change in Americas overall health.