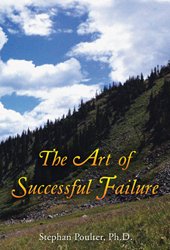 (PRWEB) January 02, 2017
"The Art of Successful Failure," the new book by clinical psychologist Stephan Poulter, PhD, is designed to help readers find hope, direction and answers to a crisis of life one has experienced. These crises – often related to financial, health, loss, romantic relationships, family of origin relationship, and trauma issues – are something each person faces several times during their life.
In "The Art of Successful Failure," Poulter states each event is full of personal information that an individual must discover to move forward. If the individual avoids or resists the life event message, they may react to a similar situation the same way, while resolving the issue allows the person to experience more choices, inner calmness, and a life focus purpose.
"There are no failures in life, only life lessons," said Poulter. "Every event in life – big or small – has a meaning, a purpose, and valuable, personal information contained within it. This information is available to figuring out your life path and to navigate past the emotional, psychological and spiritual roadblocks that get in the way. No-one is exempt from this school of life process."
"The Art of Successful Failure" uses a combination of Western and Eastern philosophy to provide readers with a roadmap to help face tough issues and find their way again.
"The Art of Successful Failure"
By Stephan Poulter, PhD
ISBN: 978-1-5043-5415-8 (paperback); 978-1-5043-5417-2 (hardback); 978-1-50435-416-5 (electronic)
Available at Balboa Press, Amazon, and Barnes & Noble
About the authors
Stephan B. Poulter, Ph.D., is a renowned Los Angeles clinical psychologist with more than 25 years in private practice. He is a graduate of Fuller Theological Seminary and has a doctorate in clinical psychology. He is an author of nine books, a family therapist and a public speaker on parental/teen issues. To learn more, please visit http://www.StephanPoulter.com.
###
Review Copies & Interview Requests:
LAVIDGE – Phoenix
Chris Peña
480-998-2600 x 519
cpena(at)lavidge(dot)com
General Inquiries:
LAVIDGE – Phoenix
Bryan Beach
480-998-2600 x 510
bbeach(at)lavidge(dot)com