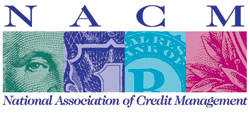 "The possibility remains that concerns will mount, but for now the mood is upbeat and enthusiastic."
Columbia, MD (PRWEB) December 30, 2016
According to the December report of the Credit Managers' Index (CMI) from the National Association of Credit Management (NACM), the combined score jumped from 52.9 to 54.1, the third-highest reading seen this year. The news was similarly positive in both the favorable and unfavorable index readings. The recovery in the index of unfavorable factors was impressive, as it went from 48 (thoroughly in contraction territory) to 50.8, as high as it has been since May.
"The possibility remains that concerns will mount, but for now the mood is upbeat and enthusiastic," said NACM Economist Chris Kuehl, Ph.D. "Consumer confidence levels are at highs not seen in over a decade."
Among the favorable categories, the sales reading slipped, though it was still higher than it had been since July. The new credit applications category improved significantly, reaching 57 from 54.5. The dollar collections reading fell slightly, but remains as high as it has been in July and September.
Areas of improvement were to be found aplenty among the non-favorable categories, such as rejection of credit applications and number of new applications. The disputes category moved from 47.7 to 49.8 and marks another category that is getting close to normal. Dollar amount beyond terms shifted from 44.9 to 49.3.
"This is the third of four categories that leaped back to near respectability after languishing in the contraction zone," Kuehl said. The last of these moves toward improvement was found in dollar amount of customer deductions. "All four of these categories were in the doldrums. Now, they are all nearly back into expansion territory and as high as they have been in the last several months."
The holiday season this year, though not a record breaker, will be better than last year, Kuehl noted. "That mean more retailers will be alive to fight another day," he said. "There has also been some decent expansion in the manufacturing sectors that is connected to retail."
Improvements in the unfavorable categories are contributing to a positive trend for the manufacturing and service sectors, "setting up a pretty good start to the coming year," Kuehl said.
For a complete breakdown of the manufacturing and service sector data and graphics, view the December 2016 report at http://web.nacm.org/CMI/PDF/CMIcurrent.pdf. CMI archives may also be viewed on NACM's website at http://www.nacm.org/cmi/cmi-archive.html.
ABOUT THE NATIONAL ASSOCIATION OF CREDIT MANAGEMENT
NACM, headquartered in Columbia, MD, supports more than 14,000 business credit and financial professionals worldwide with premier industry services, tools and information. NACM and its network of affiliated associations are the leading resource for credit and financial management information, education, products and services designed to improve the management of business credit and accounts receivable. NACM's collective voice has influenced federal legislative policy results concerning commercial business and trade credit to our nation's policy makers for more than 100 years, and continues to play an active part in legislative issues pertaining to business credit and corporate bankruptcy. NACM's annual Credit Congress & Exposition conference is the largest gathering of credit professionals in the world.