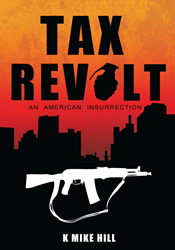 OLYMPIA, Wash (PRWEB) January 02, 2017
An Olympia-based author has released a book that combines real-life experiences with a love for action and adventure. "Tax Revolt," by author K. Mike Hill, offers a view into an alternate reality which follows one man's efforts to restore faith into America's government.
Written in 2008, "Tax Revolt" follows government statistical analyst Michael Ciorbett in his efforts to expose The Ultras, a right-wing political clique. When The Ultras rise to power and present a veto-proof legislation to a rather naïve president, Michael feels he has no choice but to take a stand and fight.
Hill wrote "Tax Revolt" after seeing how private information was abused and misused for political reasons. "I wrote this as a warning for people not to lose their faith in government," said Hill.
"This book gives an inside look as to what it's like to be a number cruncher," said Hill. "It shows how people can provide important information and not being able to control the catastrophe from coming. Now that I'm retired, I can write about things I've experienced and turn them into fiction."
An intense adventure story, "Tax Revolt" will captivate readers as the story of one man falling victim to a right-wing political clique unfolds.
"Tax Revolt"
By K. Mike Hill
ISBN: 978-1-4401-0940-9 (paperback); 978-1-4401-0939-3 (electronic)
Available at the iUniverse, Amazon and Barnes & Noble
About the author
Kevin Hill is a retired historian and research analyst and currently lives in Olympia, Wash. He received his Bachelor of Science in Education for Northern Illinois University in DeKalb, Ill.
###
Review Copies & Interview Requests:
LAVIDGE – Phoenix
Chris Peña
480-998-2600 x 519
cpena(at)lavidge(dot)com
General Inquiries:
LAVIDGE – Phoenix
Bryan Beach
480-998-2600 x 510
bbeach(at)lavidge(dot)com