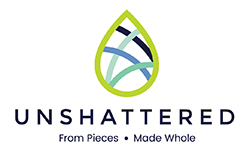 When I started Unshattered in 2013, I knew that I wanted the experience to help women in recovery realize their full potential.
Garrison, New York (PRWEB) December 30, 2016
Unshattered, the social enterprise arm of the New York-based Walter Hoving Home, has rebranded and launched a new e-commerce website. The new website allows the organization to sell their custom-made handbags directly to consumers and features Unshattered's new logo and tagline, something Kelly Lyndgaard, the organization's founder and CEO, is very excited about.
"When I started Unshattered in 2013," says Lyndgaard, "I knew that I wanted the experience to help women in recovery realize their full potential. I feel like we've done that, and now with our new logo and tagline, I think we finally have something that shows people exactly who we are."
Unshattered's new logo is made in the shape of a tear drop to represent the fraught past of its women. Encased within the tear drop are three abstract crosses to signify the organization's spiritual foundation. However, these crosses also work to illustrate the connotative depth of the brand.
"We can see that the tear drop appears to be filled with cracks," says Lyndgaard, "but it remains fully intact. And with the addition of our new tagline: From Pieces, Made Whole, I think we encapsulate the entire story and meaning of our organization."
Unshattered's completely redesigned website offers users a more immersive experience. It has an interactive timeline to highlight the organization's milestones as well as features stories about each woman's journey out of addiction. Visitors can also view the creation process of their products and purchase them directly at the online store.
"The new website is a breath of fresh air," says Lyndgaard. "Now our women can share their stories and sell their products so much easier. Plus, people can get an inside look at our organization and see the stunning changes these women are making in their lives. I really want to thank Blue Key Interactive for the incredible work they did on our brand and website. I think they understood our brand even better than we did, and I couldn't have asked for a better representation of who we are."
Unshattered's new website will be updated regularly with new success stories, products, events, and other important news. All are encouraged to explore the new website at http://www.unshattered.org.
About Unshattered
Unshattered is a non-profit social enterprise providing pathways toward economic independence and sustained sobriety for women winning their fight against addiction. Our gorgeous bags and accessories are handmade by women in recovery out of repurposed items and other high quality materials. Making these products gives them the opportunity for creative expression. These products also act as tangible representations of the transformation occurring in their lives. All the proceeds go to support Unshattered and the Walter Hoving Home where the women of Unshattered and many others have found freedom from addiction.