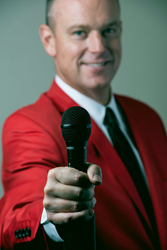 There is common DNA in successful people, successful businesses and successful relationships. Found within that DNA, is a trait called Attitude. -Author, Speaker, Serial Entrepreneur, and World Class Coach, Glenn Bill.
Indianapolis, Indiana (PRWEB) December 30, 2016
Global Authority on Attitude, Serial Entrepreneur, and World Class Coach Glenn Bill to launch Attitude Awareness Day in 2017.
The Attitude Movement will inspire and unify the nation by encouraging positive attitude actions.
Indianapolis-based Speaker, Serial Entrepreneur, Author and World Class Coach Glenn Bill is pleased to announce his Attitude Movement and Global Attitude Awareness Day that will be held April 15th, 2017. The new movement has been set in place to inspire, unify and motivate an upward shift in the nation's attitude.
Glenn Bill who received his real estate license at the age of 19, pioneered his way to the top before wisely purchasing a national franchise within 4 years. Through passion, vision, drive, and innate skill he applied the principals found in his book "The ABC's of Attitude," to grow his organization into a multi-million-dollar revenue generating company and Top 10 national franchise.
Glenn Bill has a desire to influence the youth by teaching them the values of teamwork, upward thinking, and unity. He was an assistant coach of his local high school team for over 20 years, helping lead them to 13 State Championships, an Indiana high school record.
Glenn Bill, who published the #1 International Best-Seller "The ABC's of Attitude" with his workbook The Attitude Playbook, created the Attitude Movement to help increase unity, awareness, and realignment of attitude as a nation through action. The Attitude Movement is made up of individuals who see the challenges within our nation and focus their abilities to improve the world one attitude at a time.
The nation is encouraged to get involved and join the Attitude Movement on April 15th, 2017 including individuals, organizations, corporations, families and churches. From corporations to individuals, loved one or teams, a pledge can be made to help improve your attitude.
Join the movement and take the pledge at http://www.attitudemovement.com. In addition to taking the pledge online, participants are also encouraged to send in a 60 second or less video of their attitude walk or pledge. Winners with the greatest impact or largest group will win 50 free autographed copies of Glenn Bill's International Best-Selling book, The ABC's of Attitude and The Attitude Playbook, 50 wristbands and a one-hour keynote address featuring the Dean of Attitude himself, Glenn Bill, for their organization and/or group.
Glenn Bill's clients include Fortune 100 and Fortune 500 companies. He has also appeared and been referenced on such platforms as NBC, FOX, HLN, The Indianapolis Star, and the Wall Street Journal.
To book Glenn Bill for your upcoming engagement, TV, and radio appearances, visit http://www.universityofattitude.com or call 317-590-7757. Join the Attitude Movement and take the pledge at http://www.attitudemovement.com. Be sure to send in your video of your Attitude Walk or Pledge between April 15th – May 1st, 2017.