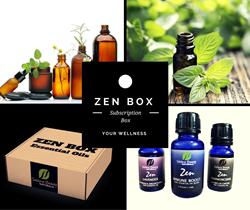 The New 2017 ZEN BOX, a Subscription Box of Essential Oils with Education & Great Bonuses, is Now Available. Make 2017 a Healthy Year.
St. Petersburg, FL (PRWEB) January 05, 2017
ZEN BOX is now open for subscriptions. It is a bi-monthly subscription box of therapeutic-grade essential oils to improve wellness and joy; it includes education on how to use the oils and what they are good for.
A 28% Off Discount is available to those who elect the one-time annual payment. Annual pay members will get a healthy Skin Brush, and ALL new members get a free ZEN BOX folder to hold the education and recipes. The first 20 new members get a free bottle of ZEN AIR IMMUNE BOOST Essential Oil Diffuser Blend.
A one time offer of 50% Off the book, "Essential Oils Have Super Powers" is also available at sign up.
"Essential Oils have so many natural powers for healing, wellness and mood," says Kathy Heshelow, author of "Essential Oils Have Super Powers" and founder of ZEN BOX & Sublime Naturals. "ZEN BOX is a great way to build a collection, know how to use them and have fun while improving wellness."
The first box ships February 5th, and then every other month on or around the 5th. On the "no box" month, special 35%-40% off discounts will be given on essential oil products, and a standing 25% off secret discount is available to members - only to ZEN BOX members.
Subscribers earn valuable VIP ZEN POINTS with every purchase or recharge, good for further discounts on aromatherapy products or anything on the Sublime Naturals store.
[Watch the special video explaining the benefits here, or subscribe now at Sublime Naturals.
Sign up for a healthy and fun 2017. Sublime Naturals offers a no-risk guarantee, and the box can be cancelled at any time.