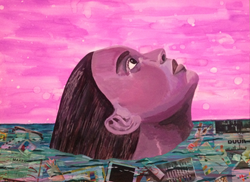 Kohli says her work with the homeless community left an itching desire to understand how poverty could exist in one of America's richest neighborhoods
Santa Clara, California (PRWEB) December 30, 2016
Pankhuri Kohli, a high school senior in Cupertino High School, has been keenly involved in combating the problem of homelessness in the Bay Area. A Bay Area resident herself, Kohli has completed 200+ hours of community service during her high school years, volunteering for several organizations that aid the homeless, such as West Valley Community Services and Family Supportive Housing. She even received the Presidential Volunteer Service Silver Award to commemorate her efforts in 2016. Her work compelled her to research homelessness in the Bay Area, using interviews with homeless people and nonprofit workers to explore the pervasive issue. The project highlighted the funding needs of agencies aiding the homeless, motivating Kohli to do her part in combating the issue. By contributing all of the proceeds from her debut art showcase, Kohli was able to raise $1000+ for West Valley Community Services, an organization providing resources to the homeless in Santa Clara County.
Regarding her efforts, the budding artist and activist said, "I hope my journey, shaped by the many homeless people I have met, will make people realize that they need to help the homeless and that they have the power to change someone's life." Kohli's extensive work with the homeless community left an itching desire to understand how such poverty could exist, even in one of America's richest neighborhoods. As she compiled her own research project, she discovered the high-housing costs and lack of awareness regarding homelessness were the main culprits. Kohli wants to combat all the problems she can, using the art fundraiser for the homeless of Santa Clara County to combat the issue of agencies lacking funds.
Last month at the Winter Art & Craft Fair, organized for their employees by American technology company Intel, in Santa Clara, Pankhuri Kohli participated along with her mother and artist Sujata Tibrewala to exhibit some of her paintings. Encouraged by the stupendous response her paintings got, Kohli decided to continue her efforts to raise funds through online showcase of their works. The artists were able to meet their target of raising $1000, all of which assists the homeless in the Santa Clara county.
About the event:
Artist Pankhuri Kohli along with her mother Sujata Tibrewala raised funds through the sale of their art, art prints and bookmarks with their art on it by participating in the annual Winter Art Fair organized by Tibrewala's employers Intel in Santa Clara. The artists continued their exhibit online and successfully reached their target of $1000 to raise funds for West Valley Community Services, Inc. (WVCS), a private non-profit, community-based agency that has been providing direct assistance and referral services to the west valley communities of Santa Clara County for over 40 years.
About Pankhuri Kohli:
Pankhuri Kohli is a high school senior student and an emerging artist who pursues art as a hobby and to help make a difference to the lives of others. She aspires to raise awareness towards the problem of homelessness and has just completed an extensive research on the subject.