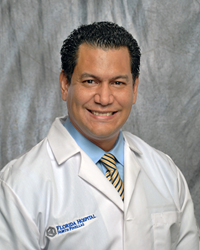 His years of experience in obstetrical care and his gynecologic surgical expertise will help us continue to be a leader in our community in providing the best possible OB/GYN services for our patients
Palm Harbor, FL (PRWEB) December 29, 2016
Florida Hospital Physician Group (FHPG) is pleased to announce the addition of Giovanni Jubiz, MD, PhD, FACOG to Florida Hospital Physician Group. Dr. Jubiz is a board certified OB/GYN who is also a fellow of the American Congress of Obstetricians and Gynecologists (FACOG) and a member of the American Medical Association (AMA).
Dr. Jubiz earned his medical degree from Del Norte University in Colombia, and then completed a residency in Medical Genetics from Javeriana University, also in Colombia. He also earned a Master's Degree in Biology with a major on Human Genetics. In 2001, Dr. Jubiz specialized in Clinical Biochemistry with a major on inborn errors of the metabolism before completing his PhD in Medical Genetics and Human Genetics from Howard University in Washington, DC. He then completed his OB/GYN residency from Lincoln Hospital in New York. Dr. Jubiz's surgical specialization includes minimally invasive advanced laparoscopy and robotic surgery, including single incision robotic surgery that is done completely through the umbilicus, surgical management of pelvic organ prolapse, urinary incontinence, and hysteroscopy procedures. He also specializes in the medical management of pelvic pain, abnormal uterine bleeding, infertility and obstetrical care.
Florida Hospital Physician Group physicians and staff focus on compassionate, whole-person care with extensive knowledge and expertise to diagnose and treat medical conditions with a patient-focused approach. "We are very excited to have Dr. Jubiz join Florida Hospital Physician Group as part of North Pinellas Women's Care," shared Chris Jenkins, President of Florida Hospital Physician Group. "His years of experience in obstetrical care and his gynecologic surgical expertise will help us continue to be a leader in our community in providing the best possible OB/GYN services for our patients."
Dr. Jubiz is fluent in English and Spanish. He is located at 4705 Alternate 19, Suite B, Palm Harbor, FL 34683, and is currently accepting new patients. For more information, or to schedule an appointment, please call (727) 935-6477 or visit http://www.NorthPinellasWomensCare.com.
About Florida Hospital Physician Group
Florida Hospital Physician Group (FHPG) is a multi-specialty physician group, dedicated to improving the health and wellness of communities throughout the greater Tampa Bay region with more than 160 providers operating in over 45 locations representing over 25 medical specialties. FHPG offers patients the highest level of compassionate and multidisciplinary care through a broad range of medical and surgical services, as well as direct access to five local Florida Hospitals, a Long Term Acute Care facility, imaging centers, specialty and urgent care centers, rehabilitation facilities and home care agencies located throughout Hillsborough, Pasco and Pinellas counties. Part of the Adventist Health System, Florida Hospital is a leading health network comprised of 26 hospitals throughout the state. For more information, visit http://www.FHPhysicianGroup.com.