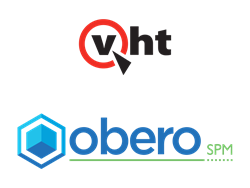 Akron, Ohio (PRWEB) January 04, 2017
Virtual Hold Technology (VHT) today announced the selection of Obero SPM to power the creation, management, and optimization of their sales compensation plans. VHT chose Obero SPM to automate the calculation and reporting of complex sales commissions plans while allowing their business-users to own the application, facilitating future changes without the involvement of vendor consulting teams.
"Our business moves quickly, and grows quickly. We chose Obero SPM because it's a flexible solution that can scale up with our recurring revenue business," said Jim Bokar - Director of Finance & Administration, Controller at VHT.
Obero SPM supports every aspect of a SaaS company's sales performance management strategy, providing increased confidence in automated calculations and what-if models, slashing the time it takes to get results, and giving self-service reporting capabilities to the entire sales team. Obero is also an Intacct Marketplace Partner and integrated seamlessly with VHT's Intacct ERP system.
"Virtual Hold needed a solution that is designed to handle the complexities of a recurring revenue business, that integrates seamlessly with their Salesforce and Intacct systems, and that can grow and change as their business grows and changes. We're happy to be that solution," said Leon Kharkhourin, CEO of Obero.
About Virtual Hold Technology (VHT)
Virtual Hold Technology (VHT) offers a suite of complementary, patented solutions that help organizations enhance the customer journey in order to achieve greater loyalty, efficiency and revenue. Multichannel solutions provide the opportunity to enrich the brand and deepen the customer relationship with every interaction. Deployed seamlessly within any single or multivendor environment, our virtual queuing and customer engagement solutions are designed to empower customers, agents and brands. To learn more about how Virtual Hold Technology can help transform how you serve your customers, visit http://www.virtualhold.com or email info@virtualhold.com.
VHT, VHT Callback and Virtual Hold Technology are trademarks of Virtual Hold Technology.
About Obero
Obero is a privately held global company with offices in the United States, Canada and Europe. Developer and provider of Obero SPM, a cloud-based Sales Performance Management solution which supports the entire end to end sales life cycle; automating processes for the office of Sales, Finance and HR. Obero SPM integrates the Sales Planning and Forecasting, Incentive Compensation Management and Sales Profitability Management processes in a single unified application. Obero has been ranked as one of Canada's top technology companies; included in the Top 10 Growth, Top 25 Up and Coming, and Top 250 Canadian ICT categories in the 2014 and 2015 editions of Branham 300. Obero SPM has recently been recognized in the Top 20 Corporate Finance Technology Solutions by CIO Review and as a Momentum Company of the Year by TechConnex. For more information, visit http://oberospm.com