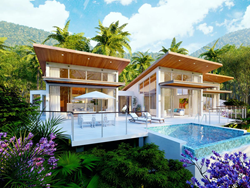 One of the benefits of being a family business... is being able to take the time to chat with guests
San Ignacio, Belize (PRWEB) January 03, 2017
With Belize's growing reputation as a hot travel destination showing no sign of cooling off, The Lodge at Chaa Creek's new accommodations, tours and features should be welcome news for travellers, the family owned and operated eco-resort says.
Bryony Fleming Bradley, Chaa Creek's second-generation general manager, said the popular Belize eco-resort's evolution has always been based on customer feedback rather than industry trends.
"One of the benefits of being a family business rather than answering to corporate headquarters or shareholders is being able to take the time to chat with guests, get a picture of what they like or would like to see, and then make decisions based on that feedback.
"For example, our early morning birding walks and the large number of our nature guides specialising in birds is a result of the interest guests showed in the 'Birds Without Borders' program we sponsored years ago with the Zoological Society of Milwaukee and Foundation for Wildlife Conservation. When we saw how many visitors wanted to learn more about the many species of birds that live in or visit the surrounding rainforest, we responded, and now birding is one of our most popular activities.
"It was the same with exploring the nearby ancient Maya temples, archaeological sites and sacred caves, or canoeing down the Macal River, or horseback excursions along the trail network running throughout our 400-acre private nature reserve; guests showed an interest, and we put resources towards developing those activities," Ms Bradley said.
More recently, and in time for 2017, Ms Bradley said Chaa Creek is responding to guests' curiosity in areas such as culture, as well as expanding the resort's wide range of accommodations to include private luxury villas with amenities like personal Jacuzzis, plunge pools and butler service.
"We've always emphasised Belize's colourful history and multicultural makeup, and the response to existing tours and excursions was so enthusiastic that we developed a weeklong 'Cultural Grand Tour' as a way to introduce and immerse guests in Maya, Garifuna, Mestizo, Creole, Mennonite and other cultural groups that make Belize such an interesting country," Ms Bradley said.
The Belize Cultural Grand Tour takes guests across Belize with visits to small villages for hands-on lessons in everything from making tortillas from fresh-ground corn to the Garifuna drumming on handmade instruments that has become so popular on the global World Music scene. The tour culminates with a "cultural immersion" and stay at the luxurious Villa Verano Villas at the seaside Garifuna village of Hopkins on Belize's Caribbean Coast.
Also new for 2017 are Chaa Creek's Ix Chel Luxury Rainforest Villas.
Ms Bradley said the villas, opened December 20 2016, are quickly gaining a reputation as Belize's most luxurious jungle accommodations.
Set on a landscaped bank overlooking the Macal River and surrounded by a pristine rainforest environment, the villas are fronted with floor-to-ceiling glass walls and doors looking out on expansive verandas that contain private Jacuzzis, plunge pools, al fresco showers with custom made dining and lounging furniture.
A personal butler is on hand to organise room service, in-room massages and spa treatments, laundry, tours and provide attentive yet unobtrusive service, Ms Bradley said.
"We call it a 'Garden of Eden with a Butler' experience that offers a feeling of privacy while still being convenient to all Chaa Creek amenities such as our restaurant and lounge featuring farm-to-table dining and fresh Caribbean seafood, the infinity pool, Hilltop Spa and easy access to all activities including horseback and mountain bike riding along jungle trails, canoeing, nature walks, ATV jungle safaris, river excursions and all those things that earned Chaa Creek the reputation as Belize's 'Destination within a Destination'," Ms Bradley explained.
Ms Bradley said more new tours and activities for 2017 are currently under discussion.
"We're always discussing feedback and anecdotes from guests, especially after they've dined in the restaurant or returned from an excursion. This always sparks ideas and, in addition to more formal quality assurance programs we have in place, it's a more casual approach towards continual improvement.
"It may be informal, but, given our guests satisfaction surveys, it's definitely effective," Ms Bradley said.
Ms Bradley added that Chaa Creek's vacation planning specialists and "Romantic adventures" teams for couples are on hand to help travellers plan Belize vacations, and encouraged people to contact their travel agents or Chaa Creek directly to learn more.
"Another advantage of being a family run business is that we can really listen to our 160 employees and our visitors, who we consider to be guests in the true sense of the word.
"I think that's another thing that really sets Chaa Creek apart," Ms Bradley said.
The Lodge at Chaa Creek is a multi award winning eco resort set within a 400-acre private nature reserve along the banks of the Macal River in Belize. It is currently a finalist for National Geographic's 2017 World Legacy Awards.
ENDS