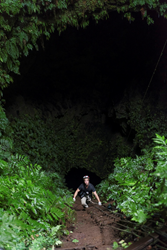 Miami, FL (PRWEB) February 03, 2016
The world is teeming with stories. Live the Journey (LTJ) (http://www.livethejourney.tv/) is a docu-travel series in development that tells those stories, and which is now crowdfunding on Indiegogo (https://www.indiegogo.com/projects/live-the-journey#/).
Helmed by Mike Atwood, a Miami-based film maker with humble beginnings in the skateboarding scene, the project follows individuals on their worldly travels in an effort to shed light on specific issues, and what is being done about them by ordinary people. Through each journey the protagonists will touch on some inner passion to tell a story, investigate a topic or find what they're looking for, all in line with the current events, people or culture of each location.
"Now that the world is open to us and we can basically go anywhere, anytime, the next step is inspiring others to travel with a purpose," said Atwood.
LTJ has brought stories out of Puerto Rico, the Dominican Republic, Galapagos (https://vimeo.com/117374236) and Haiti with the generous help of family and friends. To continue telling the world's stories, including those from intended future journeys to Liberia and Brazilian Amazon, LTJ is reaching out to the proactive community at large for their support.
"We are looking for like-minded individuals to contribute to a valuable conversation about our world and how we occupy it," said Atwood.
The project was inspired by the people and places encountered while traveling out of pure curiosity, becoming immersed in new, sometimes radically different cultures. In our time the world has become much smaller, and thus we are forced to ether coexist or face possibly irreparable consequences. This is why the series intends to create a ripple effect of positive action.
The pilot episode shot in Haiti (https://vimeo.com/148743589) follows Edson Jean, a Haitian-American based in Miami, and his questions about activism. As the privileged citizens of a first world country, we are often alarmed to hear news of life overseas and are overwhelmed by the weight of it all. Edson cuts right into the heart of this anxiety and brings the issue into more manageable, bite-sized pieces in order to spark the change in attitude required to reach out to our next door neighbors who could use our help.
There is no place on Earth that LTJ does not hope to bring a story from. With the help and support of the larger, creative and motivated public, LTJ will be able to present a globe full.
"The purpose is ultimately understanding the people we share this planet with, and the experiences that shape us all," said Atwood.
For more information please contact:
Greg Clark
305-305-3909
gregdclark(at)gmail(dot)com