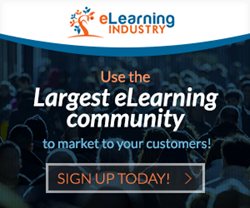 We would like to keep our readers in-the-know about products and services that can help them create more engaging and effective eLearning experiences, as well as make their professional lives easier.
(PRWEB) February 18, 2016
For the first time ever, eLearning Industry will open its website to companies looking to increase revenue, readership and visibility with a new press release subscription service. The brand new service will give companies a platform to announce updates, changes, and exciting news to the largest online community of professionals involved in eLearning.
For years, Christoforos Pappas, eLearning Industry CEO said the company has had the honor and privilege of providing eLearning professionals with the latest eLearning news, tips and trends.
"Our press release service takes it a step further by offering companies a platform to keep the industry informed," Pappas said.
The website, which is a database of elearning articles previously only available to consultants and industry experts, now gives any subscribing company the affordable opportunity to distribute their content to an impressive readership and connect with the right people. It will allow users to increase their coverage, impact and credibility.
"Rather than searching the web for the right release site, they can reach out to eLearning professionals who are already involved in the eLearning field and are passionate about online education and training," Pappas said.
But how truly valuable is this traffic? Elearning Industry recently shared some detailed information about their readers to the public. According to their Google Analytics, these readers number more than 400,000 strong each month. Browsing history shows that these are persons seeking to stay up-to-date with eLearning articles, concepts, software and resources. And not only that, but those readers stay on any given page, absorbing information, for an average of 4 ½ minutes. In this day and age of the internet, that's a lifetime! More than 100 people can be found reading at any given moment on eLearningIndustry.com, and by the end of the month, this amounts to 750,000 page-views. By participating in the press release program, any exciting news that subscribers wish to share will be seen immediately and get extensive exposure throughout the month.
Submitted press releases will be seen by the ideal customers; people who are involved, committed and research within the eLearning community. With new eLearning technologies, tools and other resources consistently being introduced in the eLearning world, Pappas was excited for such an ideal time to launch the new press release service.
With such wide-ranging visibility, users with a press release subscription can generate more clients and expect an increase in online traffic.
"We would like to keep our readers in-the-know about products and services that can help them create more engaging and effective eLearning experiences, as well as make their professional lives easier," Pappas said.
Media announcements on eLearningIndustry.com will be automatically distributed to a database of learning-industry professionals; included in the database are analysts, bloggers, commentators, editors and journalists, event and conference organizers, and learning industry groups around the globe.
With the new subscription service offered, press releases will additionally be highlighted in the eLearning weekly email newsletter. This newsletter is sent to more than 65,000 eLearning professionals who follow news within the eLearning community.
The publicity doesn't end there. eLearning Industry has an extensive presence on social media. Each time a press release is submitted, not only will it be viewed by more than 400,000 monthly readers, it will also be released on eLearning Industry's social media accounts. These accounts include: Facebook with 389,000 followers, Twitter with 114,000 followers, Google+ with 142,000 followers, and LinkedIn with 110,000 followers.
The ability to reach such a large, targeted audience is an incredible value and comes at very reasonable price. The press release subscription service with eLearning Industry costs $1,750 for 18 press releases. That is less than $100 for each press release, which is less than half the cost of what other distribution services charge. For example, several well-known press release distributors charge upwards of $250 for their services. These companies offer less visibility than what eLearning Industry is offering to its customers who sign up for the press release subscription.
Pappas said users can expect to find a wealth of resources about crafting the perfect press release as well as tips about formatting and how to reach a wider audience. "Our goal is to make it as simple and straightforward as possible for them to publish their releases, and for our readership to get the information they need in one centralized location," he said.
The user-friendly interface makes press release writing and management simple and enjoyable. There is no getting lost. Users will also be able to easily track and analyze their success, see exactly how many people read their press releases, visit the site, and how many become leads or sales. This is a feature typically missing from similar competitor's services.
The subscription includes complete tracking of KPI's, promotion to all eLearning network websites and more than 400,000 readers each month, email notifications to 65,000 subscribers, free social media promotion and free Google ad promotion.
Press releases submitted with the subscription will also be cross promoted to other properties such as elearningfeeds.com, elearningtags.com, vivaelearning.com, elearninginterviews.com, elearningjobs.com and elearning-weekly.com.
With the eLearning Industry press release subscription, users will get a bigger reach, with a more targeted audience for a fraction of the cost of competitors.
About eLearning Industries
The e-Learning field is changing constantly with new ideas, tends, concepts and software. eLearning Industry was created to bring these changes together in the largest online community of professionals involved in the eLearning industry. eLearning Industry offers the best collection of eLearning articles, eLearning concepts, eLearning software and eLearning resources based on the top eLearning authors.
The company, eLearning Industry, is designed to share knowledge via eLearning articles, tweets, ppp, etc; help instructional designers and (or) eLearning professionals to find a project or a temporary basis job; to build a safe online community of professionals involved in the eLearning industry.
Interested users are always welcome to post an eLearning article with eLearning Industries.