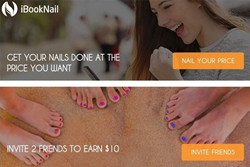 We believe it's the biggest advancement in the nail salon industry in the last 50 years, similar to how other companies have revolutionized the taxi and ride-sharing industry
San Francisco, CA (PRWEB) March 16, 2016
Leporu, Inc. today announces the release of its suite of apps targeted at the nail salon industry that combines industry-leading functionality to provide maximum convenience to consumers and generate increased revenues for salon owners.
The company's mobile apps and website https://www.ibooknail.com will be an incredible game-changer for the nail salon industry, where customers can now find the best price to book their appointments anytime, anywhere at the touch of their fingers.
iBookNail allows consumers to search for salons by geography, availability, types of services, and price. By doing so, it can satisfy the desire of consumers for:

Greater choice. Not all salons offer or specialize in the same services. By allowing consumers to filter their results, it allows them to potentially explore salons and services previously unknown to them.
Immediacy. Being able to search for appointment availability allows consumers to satiate their desire for instant gratification and save time. Consumers can either find a time that fits their calendar or look for an immediate opening.
Discount pricing. By matching clients and service providers, iBookNail helps foster a dynamic marketplace. Consumers can take advantage of the unique "Nail Your Price" functionality and name a fixed price for a given service that nearby providers can bid for. Similarly, salons can offer short-term sales to potential customers to fill open slots and bring in additional business.
The nail salon industry is currently $14 billion dollars with over 90,000 salons operating in the U.S. The average customer frequents a nail salon 25 times a year. iBookNail has the potential to make these frequent and repeated interactions far more convenient.
With thousands of salons in California already listed on iBookNail and a fast growth of customer engagement, the iBookNail mobile app represents a disruptive technology that will alter nails appointment scheduling. "We believe it's the biggest advancement in the nail salon industry in the last 50 years, similar to how other companies have revolutionized the taxi and ride-sharing industry," said Luan Tran, Founder and CEO of Leporu. "Our company focuses on beauty appointments because of our cultural, professional, and personal ties to this industry."
Leporu intends to expand iBookNail to Texas, Florida, New York..etc and enter other service markets in the near future. iBookNail is absolutely free for consumers and charges a commission as low as 5% to salons (among the lowest fees of any reservations service provider available).
iBookNail apps (iOS/Android) can be downloaded now or accessed at https://www.ibooknail.com.
About Leporu
Leporu Inc. helps you book your next beauty and health appointment instantly via your mobile phone and web browser. More information can be found at http://www.leporu.com
©2016 Leporu, Inc. All rights reserved.
For Press Inquiries:
Leporu, Inc.
Le Shang Lin, 510-435-9296
Corporate Marketing
pr(at)leporu.com