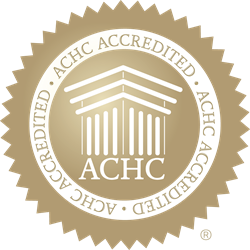 Kansas City, Missouri (PRWEB) March 24, 2016
Heritage Biologics proudly announces its approval of accreditation status by Accreditation Commission for Health Care (ACHC) for the services of Specialty Pharmacy, Infusion Pharmacy, and Infusion Nursing.
Achieving accreditation is a process where healthcare organizations demonstrate compliance with national standards. Accreditation by ACHC reflects an organization's dedication and commitment to meeting standards that facilitate a higher level of performance and patient care.
ACHC is a not-for-profit organization that has stood as a symbol of quality and excellence since 1986. ACHC is ISO 9001:2008 certified and has CMS Deeming Authority for Home Health, Hospice and DMEPOS.
Heritage Biologics is a leading Specialty and Home Infusion Pharmacy focused on redesigning the traditional pharmacy service model. By creating the first formal Pharmacy Patient Experience (RXPX) program in the nation, Heritage has defined the new standard for rare care. Attaining ACHC accreditation highlights Heritage Biologics commitment to preeminence. The foundation of the organization is built on the following mission statement: To empower healthcare stakeholders with preeminent patient-centered infusion and specialty pharmacy services.
Heritage Biologics continues to lead the Patient Experience charge in Specialty and Home Infusion Pharmacy with their RXPX initiative. This important collaborative program aims to advance the traditional hospital Patient Experience (PX) program into the outpatient pharmacy setting. Specialty Pharmacies play an integral role in the overall healthcare model. The pharmacy is the link between the healthcare provider and the patient. As the healthcare market evolves, continuity of care will become increasingly critical across the healthcare spectrum. Transitioning patients to outpatient care will be a key driver, and monitoring that part of the puzzle is becoming a priority for all stakeholders. Heritage Biologics is changing healthcare!
For more information, please visit http://www.HeritageBiologics.com, or contact us at rarecare(at)heritagebiologics.com or (855) WE-R-RARE.
###