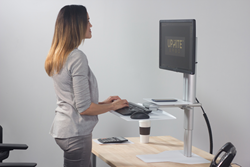 Atlanta, Georgia (PRWEB) March 30, 2016
Uprite Ergo™, an innovative brand of ergonomic sit-to-stand desk solutions, will launch its flagship product nationwide beginning on March 29, 2016, according to leaders of the Atlanta-based organization. The company will make its national debut with the Uprite Ergo™ Sit2Stand Workstation.
Combining form with function, these signature ergonomic products promise the convenience of adjustable height workstations with unique durability and best-in-class design. The units will be available online at UpriteErgo.com.
"For years, people have struggled with back, neck and shoulder pain from sitting for prolonged periods of time, and have long sought a solution that enables them more mobility and movement without losing desk space or functionality," says company CEO and co-founder John Mosher. "In our Sit2Stand Workstation, we believe we have found that perfect solution."
The company started with a simple question: "What's standing between you and a better day"? Unfortunately, for far too many people, research shows the answer to this question is back and neck pain from working with ergonomically unsound conventional office desks and chairs. Many studies have linked sitting for prolonged periods with heightened risks of metabolic syndrome, heart attack and even stroke.
While recent years have seen the emergence of height-adjustable desks, Mosher says they're typically too expensive, bulky and require the need to discard existing desks. Uprite Ergo™ set out to create a model that addressed these shortcomings, didn't break the bank, or require a major office overhaul.
"Our engineers set out to create a solution that was affordable, practical, elegant and flexible," Mosher says.
The result is the sleek Uprite Ergo™ Sit2Stand Workstation. Crafted with durable, scratch-resistant anodized and powder coated aluminum and steel, the lightweight workstation features an adjustable column enabling seamless transition from a sitting to a standing position in seconds.
Locking levers keep monitors and keyboards securely in place, while heavy-duty construction let the workstation safely support up to 21lbs of monitor weight, depending on configuration.
Best of all, the Uprite Ergo™ Sit2Stand Workstation sits directly on your existing desk or table, eliminating the need for tricky mounting hardware or brackets.
Available in single or dual monitor models, this innovative workstation is currently available on UpriteErgo.com for $375 to $425.