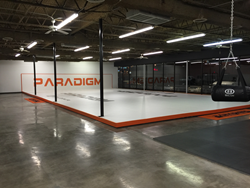 "We didn't cut any corners. The facility is top-notch—there's nothing else like it in Texas,"
Houston, Texas (PRWEB) April 07, 2016
Since opening their original galleria-area location in 2009, Paradigm Training Center has become the largest and most popular Martial Arts training venue inside Houston's Beltway Loop. To keep up with the growing interest, in January Paradigm opened a second facility at 10500 W. Belfort, located off the Southwest freeway just outside the Beltway Loop. Owner Reed Shelger remarked, "While we see opportunities to expand in all areas of Houston, we are particularly excited about coming to the Southwest side, where there is a need for a top-level martial arts and wrestling center. We were fortunate to find an ideal location to serve the Sugarland, Missouri City, and Stafford communities."
Once a fringe sport, Mixed Martial Arts (MMA) has now surpassed boxing in global popularity. Stars of the sport like Jon "Bones" Jones, Anderson "The Spider" Silva, and "Rowdy" Ronda Rousey have become household names, giving rise to a new wave of fans and participants. Fans enjoy the dynamic contests, which feature techniques from wrestling, Brazilian Jiu Jitsu, kickboxing, and more. It is thus little wonder that the sport has taken hold amid Houston's diverse metropolis, where hobbyists looking for an exciting workout line-up alongside professional athletes to explore all this exciting sport has to offer.
Houston's MMA talent pipeline continues to excel at the highest level of competition with several Houston area athletes competing at top promotions including the UFC. Paradigm believes an investment in world-class training facilities has promise to attract local athletes and future world champions. "The demographics in this area are tremendous. With so many families, young people, and kids, we are really looking forward to building a new generation of martial artists," said Shelger.
The new site features exciting new additions such as the largest cushioned grappling surface in the state. "We didn't cut any corners. The facility is top-notch—there's nothing else like it in Texas," boasts General Manager, Allan Hunt, a graduate of Clements High School in Sugar Land.
Some of Houston's most accomplished trainers have joined the coaching staff at the new location, including renowned striking coach, Mike Altman. Mike has been competing and training fighters at the most elite levels of combative arts competition for over 20 years. At the helm of the Brazilian Jiu Jitsu program, Marcus "Boquinha" Bello was recruited directly from Rio De Janiero. Marcus (who is a black belt in both Judo and BJJ) is famed for his exquisite top game.
Training is offered to individuals of all skill levels in wrestling, boxing, kickboxing, Brazilian Jiu Jitsu, and functional conditioning. A typical training session begins with a warm-up followed by technical instruction and drills, and ends with either pad work, bag work, and/or live training. Participants can expect to get a great cardiovascular workout while learning effective techniques in Martial Arts. For students with the desire to compete, Paradigm offers competition teams in youth wrestling, Brazilian Jiu Jitsu, and MMA. For more information visit, http://www.txgym.com.