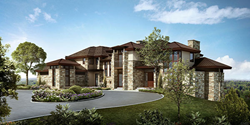 (PRWEB) April 20, 2016
There are homes that impress and others that simply take your breath away. Situated on a spectacular ten-acre site in Bull Valley, Orren Pickell's latest Concept Home, The Valley's Edge does just that. The homeowners turned to Pickell to masterfully design and create their dream, state-of-the-art 6,300 square-foot custom home after seeing their previous work. Offering unparalleled views for miles, every component of the home was strategically planned to embrace the stunning surroundings while incorporating cutting-edge materials, technology and design techniques.
From a state-of-the-art scullery kitchen, great room with vaulted ceiling and a linear, see-thru fireplace shared by the library, to the walkout basement with family room and wet bar, wine room, exercise room, spa bath and Zen garden, each space serves a unique purpose while still being cohesive in design.
With four decades of home design, construction and remodeling experience, Orren Pickell continues to lead the industry with innovation and unparalleled customer service. Capabilities extend to all facets of design and building, including Architectural Design, Custom Home Building, Remodeling, Vacation Homes, Home Maintenance, and CabinetWerks.
The Valley's Edge will be open April 30, May 1, 7, 8, 14, and 15 from 11am to 4pm. To attend the open house, please RSVP to Susan Hamilton at 847-572-5266 or email shamilton(at)pickellbuilders(dot)com.
Orren Pickell Building Group
1799 Willow Rd.
Northfield, IL 60093
888-PICKELL
http://www.pickellbuilders.com