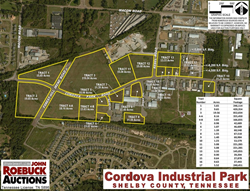 This is, in my opinion, the best laid out industrial park I've seen. It is convenient to everything. It has become a safe and secure area home for many local, national and international headquarters - John Roebuck
Memphis, TN (PRWEB) April 28, 2016
The remaining tracts of the Cordova Industrial Park, a popular location for many successful Memphis area businesses, will go to public Auction. John Roebuck Auctions Co. of Memphis, TN will conduct the Auction on Thursday, May 26th at 11:07AM CST.
John Roebuck, Principal Auctioneer for the event, advises that there are only 17 tracts left for sale. The tracts range from one acre to thirty acres. Roebuck offers the tracts at Auction where the bidder can choose which lots they want that will fit their needs.
"After the lots are all sold that day, the opportunity to buy into this all Industrial zoned and developed locale with no city taxes is over", warns Roebuck .
He adds, "This is, in my opinion, the best laid out industrial park I've seen. It is convenient to everything. It has become a safe and secure area home for many local, national and international headquarters".
Roebuck mentioned that for years that company owners have asked him about building opportunities in East Shelby County. He feels that the timing and location couldn't be better for any business owner looking to relocate or a savvy investor. Included among the properties is Tract #17 which has 3 buildings already set up for an office, mechanic shop and storage with a 5 acre fenced equipment yard. The Auction will be held in the office building.
John Roebuck has auctioned similar properties for the past forty years, but considers this the Cadillac of them all. It is all about location, location, location. You can go to the website and view a video of the property.
Feel free to call John Roebuck at 901-486-0839 for more information.