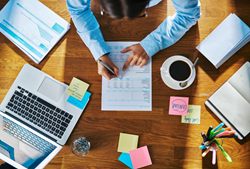 "We believe that we have the largest small business 401k fee study to ever be released to the public..."
Mobile, Alabama (PRWEB) August 24, 2016
Employee Fiduciary, LLC announces the release of a small business 401k fee study designed to help fiduciaries benchmark their plan fees. Service provider fees and investment expenses ('all-in' fees) of 121 401k plans with less than $2M in assets were studied. The average all-in fee for these plans – delivered by 22 different service providers – was 2.22%.
Employee Fiduciary President and CEO, Eric Droblyen commented, "Meaningful 401k fee data is hard to come by and that's a big problem for small businesses. Sponsors of small business 401k plans have a fiduciary responsibility to keep fees reasonable for plan participants. When this responsibility is not met, the consequences for 401k fiduciaries can be severe - including personal liability. Required publicly available filings – most notably the Form 5500 – provide only snippets of fee data. Even worse, 401k fees are often a tangle of 'direct' fees from employees and sponsors and 'indirect' fees that come from certain investment providers. Following the money is a difficult job even for those plan sponsors willing to invest the time and energy to do so."
The data for the study was collected from Employee Fiduciary's fee comparison service, which launched in 2014. Since launching the service, the company has accumulated a large database of 401k fees. When the service is requested, Employee Fiduciary provides a report that totals all of the compensation a 401k pays plan service providers and fund companies into a single 'all-in' fee. This report is based on the following information, which is supplied by the 401k fiduciary:

ERISA 408b-2 fee disclosure
Current fund-line-up with balances
Participant count
A copy of the study can be found here. Findings of the study include:
Generally, brand name insurance and payroll company 401k providers are the most expensive, while lesser-known, 'open architecture' providers are the least expensive.
The lower the asset-based fees a provider charges, the better. Fixed rate asset-based fees can drastically increase plan expenses as assets grow.
Nearly all of the insurance company 401k plans use variable annuities in their fund lineup. Variable annuities are basically mutual funds wrapped in a thin layer of insurance with additional fees and redemption restrictions. A 'wrap' fee can be 1% or more, turning low cost mutual funds into costly variable annuities.
"We believe that we have the largest small business 401k fee study to ever be released to the public," said Droblyen. "We are releasing the data in hopes that our key findings will help plan sponsors avoid the consequences for buying an over-priced 401k plan and negatively impacting participant retirement savings goals."
About Employee Fiduciary
Employee Fiduciary, LLC, founded in 2004, is a 401k plan provider for small businesses headquartered in Mobile, AL. Employee Fiduciary provides low-cost retirement plan recordkeeping and administration services to nearly 3,000 small and growing businesses nationwide. For more information, please visit http://www.employeefiduciary.com.