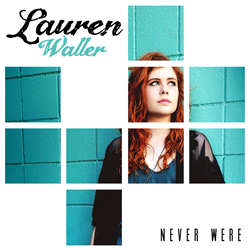 An angel in the City of Angels
Los Angeles, CA (PRWEB) May 02, 2016
The iconic Rock Radio Hall of Fame inducted World Famous KROQ alternative rock radio station in Los Angeles has now added artist Lauren Waller,to the station's Passport Approved syndicated radio-programming playlist. The "Play Us Your Hits" panel of music industry global experts at MUSEXPO 2016, critiqued Lauren Waller's song, Never Were, featured on her 2016 EP "Perhaps." Lauren Waller's compelling tone and story telling lyrics received an extraordinary positive panel review and widespread audience approval. Lauren Waller originally debuted and performed the song live on RTÉ, Ireland's national television.
Influential DJ, music supervisor and tastemaker, Nic Harcourt, moderated the MUSEXPO 2016 "Play Us Your Hits" panel. Joining him on the panel were Andrew Gould, SR.VP Creative, BMG, Aton Ben-Horin, Global Director A&R, Warner Music Group, Chris Price, Head of Music, BBC Radio1 & 1Xtra, Katie Welle, Vice President, A&R, RCA Records, Mio Vukovic, Sr. VP A&R & Head of Creative, Disney Music Group. The panel listened to selected songs before visually seeing any of the artists, and when sharing opinions on the music reviewed they were direct and business minded. Emmanuel Legrand, U.S. editor and journalist for Music Week, covered the MUSEXPO event and noted that the "Play Us Your Hits" panel expresses themselves "very freely and openly about the music that is played to them." Lauren Waller's newly released song, Never Were, was a stand out at the event, garnering positive commentary and numerous "likes" from the prestigious panel and received audience wide approval.
MUSEXPO is a key annual worldwide music industry business event where the most respected minds in the global music industry converge at the Hollywood Roosevelt hotel to keep abreast of the state of the music industry and to nurture emerging artists. Veteran music and media industry panels consisting of the world's most influential music supervisors, executives in A&R, publishing, touring, branding, and technology, share insights with event attendees on a wide range of topics.
The event draws attendance from artists and leading executives from dozens of countries around the world including Ireland, the UK and mainland Europe, as well as Scandinavian territories, India, Australia, South America and Asia. The global music industry event included insights from veteran TV personality, Larry King, and, ABC televisions late night show host Jimmy Kimmel. Event attendees included Australian media personality Byron Cooke and one of the most recognized names in Asian television and radio, Dom Lau.
Artist Lauren Waller is currently pursuing a college degree in Theatre with an emphasis in stage management; she has previously shared the stage with world-renowned performers. Her commitment to making the City of Los Angeles a better place in which to live, work, and play was recognized this year by the City of Los Angeles, State of California, and the Los Angeles City Council when she was honored as "a stellar example of a great civic leader" and as "an angel in the City of Angels!"
Listen now to Never Were on Sound Cloud, (also available on iTunes, Apple Music, and Spotify).