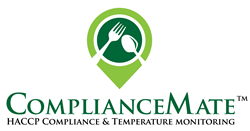 A New Solution for HACCP Checklist & Temperature Monitoring
Chicago, IL (PRWEB) May 20, 2016
CM Systems LLC will attend the National Restaurant Association Restaurant, Hotel-Motel show on May 21-24 at 2016 McCormick Place, Chicago, IL.
A New Solution for Haccp Checklist & Temperature Monitoring
ComplianceMate is an all-in-one solution for maintaining food safety, ensuring best practices, and achieving HACCP Compliance in food service locations through the use of modern technology.
HACCP Compliance
ComplianceMate can turn any of your HACCP, Operational, and Audit checklists into streamlined digital workflows saving you time and money while providing accountability. Our Temperature Monitoring provides automatic sampling every five minutes for all of your critical equipment. Customizable "smart" alerts identify problems and ignore defrost cycles and stocking times.
Food Safety Technology
ComplianceMate successfully launched its first product for use in kitchens in 2001. Incorporating our personal experiences as well as insights from our customers, we have developed a system that is comprehensive in capturing data, is user friendly, and "light years" ahead of other systems currently offered today.
Contact Us Today
ComplianceMate has streamlined HACCP compliance checklist and cooler monitoring for thousands of restaurant locations across the US, Canada, and the UK. To find out more about ComplianceMate please visit our website at: http://www.ComplianceMate.com. Come and see us at the National Restaurant Show, Booth 9053!