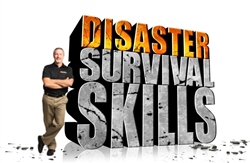 After 33 years serving as a firefighter, I've heard too many people say 'We just didn't know what to do.'
Palm Desert, CA (PRWEB) June 01, 2016
Captain Wayne Bennett, owner of Disaster Survival Skills, LLC a leader in Disaster Response Training for Schools & Business, is on a big mission: to prepare everyone with his free Life-Saving Skills instructional videos. Captain Bennett, an accomplished firefighter with three decades of experience, announced this week he will be releasing a free Life-Saving Skills video series for individuals looking for training as part of their emergency preparedness.
Captain Bennett believes these 3 lifesaving skills are the most important in any first aid emergency or disaster. That these quick strategies can save lives. Borne from a passion for equipping everyday people with the basic skills needed to save lives in the event of a 9-1-1 emergency or major disaster, Captain Bennett wants everyone to know how to become a survivor, not a victim.
"After 33 years serving as a firefighter, I've heard too many people say 'We just didn't know what to do,'" said Bennett. "My 3-part video series will address how to use abdominal thrusts to get someone breathing, how to stop serious bleeding, and how to treat life threatening shock. Most people don't realize that 35% of all trauma victims bleed out before ever reaching a hospital. You can't always wait six to eight minutes for paramedics to arrive. You must be prepared to take immediate action, the first few minutes of an emergency are the most crucial.
"This becomes even more important in the event of an earthquake when professional rescuers will be delayed. My goal is to share my training and experience with everyone so they can become their family's hero."
To obtain free access, just go to captain Bennett's website: DisasterSurvivalSkills.com. Viewers can watch his short welcome video and subscribe.
Disaster Survival Skills has been in business since 1991 specializing in Disaster Preparedness workshops, CPR & First Aid training, and emergency supplies for schools, businesses, and families. Captain Bennett has trained over 120,000 individuals in his workshops.
For more information, visit: http://www.disastersurvivalskills.com/.