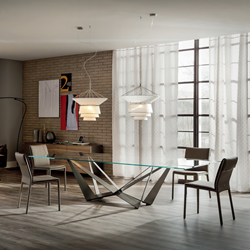 Boston, MA (PRWEB) June 14, 2016
This summer, the downtown furniture boutique Il Décor introduces original designs from the noted Italian manufacturer Cattelan Italia. Il Décor is thrilled to bring this elegant and affordable collection to Boston. These original designs capture the simplicity of domestic life without sacrificing grace or quality. Cattelan Italia's skilled craftsmanship fits seamlessly into every home, from the condos of Beacon Hill to the suburban houses of the Greater Boston area.
Internationally recognized, Cattelan Italia combines beauty with functionality in the home. Founded in 1979 by Georgio Cattelan, the award-winning company strives to bring the domestic feel of a contemporary classical Italian home to markets around the world. While constantly developing new styles and designs, Cattelan Italia remains true to its roots, holding on to the spirit of small-town Italy.
Among the pieces Il Décor is displaying for sale are the Zed Floor Lamp, the Agatha Flex Chair, the Mirror Emerald, and the Spyder Wood Table. These are minimal, yet striking. The Spyder Wood Table's walnut top brings a warmth and richness that contrasts with the boldness of its graphite base. The Agatha Flex Chair, like the other chairs in the collection, combines style with comfort to suit all tastes and postures. Wherever in a room The Mirror Emerald is placed, its eye-catching light expands space. The Zed Floor Lamp plays with clean, straightforward lines, bringing brightness to small areas and intimacy to large ones. All these individual concepts come together to create an aesthetic that is at the same time classic and innovative.
Come see for yourself – Il Décor is open and exhibiting the new Cattelan Italia collection seven days a week, from 10 AM to 6 PM Monday through Saturday, and 12 PM to 5 PM on Sundays. We invite guests to visit our showroom, meet our sales professionals, and talk about new possibilities for collaborating in the creation of beautiful homes. We look forward to building strong artistic and commercial connections with all of our guests.