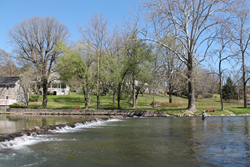 This property represents a tremendous buying opportunity for bidders, Tyler Maas, Director of Marketing with Maas Companies said. Rarely does such a well-kept and unique property become available.
Boiling Springs, PA. (PRWEB) June 10, 2016
The historic Allenberry Resort Inn & Playhouse, along with an adjacent development tract will be sold at auction. Maas Companies Inc., an auction company specializing in the selling of real estate, industrial plants, equipment and special assets, will conduct the sale. The auction will be held on the property, 1559 Boiling Springs Road in Boiling Springs, Pennsylvania on Tuesday, July 12 at 11 AM.
The auction property includes the 99,176 Sq. Ft. resort and playhouse campus on 57 acres along with the neighboring 57.9 acre development tract designed to accommodate 128 homes and duplex units for the 55-and-over age bracket. The property is well known throughout the region for its world-class theater, catch-and-release fishing along the Yellow Breeches Creek, the Pennsylvania Fly Fishing Museum and a spectacular location for a special event or wedding. The Playhouse launched the acting careers for stars like John Travolta and Eileen Brennan.
The resort offers 71 overnight lodging units, special event and banquet options in addition to the outdoor amenities: an Olympic size swimming pool, children's pool, hot tub and 4 Har-Tru clay tennis courts. It is only 30 miles away from Gettysburg and just a short walk to the Appalachian Trail. After owning and operating the property since the 1940s, the Heinze family's three siblings are ready to enjoy their retirement years.
"This property represents a tremendous buying opportunity for bidders," Tyler Maas, Director of Marketing with Maas Companies said. "Rarely does such a well-kept and unique property become available."
Potential buyers are encouraged to view the property during the following days (other times by appointment):
Friday, June 17: 10 AM – 5 PM
Monday, June 27: 10 AM – 5 PM
Monday, July 11: 10 AM – 5 PM
Tuesday, July 12: 9 AM – 11 AM
Details of the sale are available at the auction website, http://www.maascompanies.com/ or by contacting the auction company directly at (507) 285-1444.
###