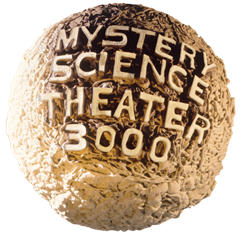 Elie Dekel, strategic brand advisor and worldwide consumer products licensing agent for MST3K, will be meeting potential licensees at Licensing Expo 2016 to discuss these opportunities.
Los Angeles, Calif. (PRWEB) June 17, 2016
Popular entertainment brand and cult-hit comedy series MYSTERY SCIENCE THEATER 3000 (MST3K) soars into Licensing Expo 2016 (June 21-23) with global licensing and merchandising opportunities. Beloved by a legion of fans worldwide and ranked by top media culture critics as one of the best cult television shows of all time, MYSTERY SCIENCE THEATER 3000 will highlight brand extension opportunities across all licensing categories, including apparel, digital gaming, publishing, toys, home goods and accessories. Elie Dekel, strategic brand advisor and worldwide consumer products licensing agent for MST3K, will be meeting potential licensees at Licensing Expo 2016 to discuss these opportunities. Moreover, MYSTERY SCIENCE THEATER 3000 invites fans and convention attendees to join in on the excitement surrounding the brand at their booth (#B154) on the main convention floor.
MYSTERY SCIENCE THEATER 3000 follows the motley crew of a human host and his two robot sidekicks aboard the Satellite of Love. The hapless host, trapped by mad scientists on a satellite in space, is forced to watch some of the most outrageously unfortunate B-movies ever created. To keep sane, he's built two robot sidekicks, and together they do a running commentary on the films, affectionately mocking their flaws with inspired wisecracks and acting as a demented movie theater peanut gallery.
Ahead of its time in many ways, MYSTERY SCIENCE THEATER 3000 used social media before there was social media, considering that a creative team of comedians and writers essentially put on a puppet show and shared with us not just cheesy old movies, but how they felt about them. They sent their show into the ether, hoping to find kindred spirits to join in the fun. The comments were delivered verbally in snarky one-liners called riffs, the spiritual father of funny tweets. The initial popularity of the show mushroomed as fans made tapes and traded them…viral videos before they turned digital. Is it any wonder, then, that the first MST3K fans were drawn to the burgeoning internet, using it to find each other and share the love?
Created by Joel Hodgson, MYSTERY SCIENCE THEATER 3000's first season aired on KTMA-TV in Minneapolis. Its national broadcast life began in 1989 on the Comedy Channel (later to become Comedy Central), where it ran for seven seasons. The show's final three seasons aired on the Sci-Fi Channel. Series creator Hodgson originally played stranded host, Joel Robinson. When he left in 1993, series head writer Mike Nelson replaced him as the new B-movie victim, and continued in the role for the rest of the show's run. The format proved to be popular, and during its eleven years and 198 episodes (including one feature film), MYSTERY SCIENCE THEATER 3000 attained a loyal fan base and critical acclaim. The series won a Peabody Award in 1993, and was nominated for writing Emmys® in 1994 and 1995.
In 2008, Shout! Factory secured the exclusive worldwide home entertainment and digital distribution rights to MYSTERY SCIENCE THEATER 3000 branded properties, which include a large library of original episodes that have never been available on home entertainment or for digital download.
In late 2015, Shout! Factory acquired the global IP rights to this long-running cult comedy series and entered into an agreement with creator Joel Hodgson to produce new episodes. The highly successful MYSTERY SCIENCE THEATER Kickstarter campaign, spearheaded by Shout! Factory and Hodgson, surpassed the goal of fully funding the production of 14 new episodes and set the world record as the highest-funded Film and TV crowdfunding campaign of all time!
# # #
About Shout! Factory
Shout! Factory, LLC is a diversified multi-platform media company devoted to producing, uncovering, preserving and revitalizing the very best of pop culture. Founders Richard Foos, Bob Emmer and Garson Foos have spent their entire careers sharing their music, television and film favorites with discerning consumers the world over. Shout! Factory's entertainment offerings serve up feature films, classic and contemporary TV series, animation, live music and comedy specials. In addition, Shout! Factory maintains a vast entertainment distribution network which delivers culturally relevant programming, movie and audio content to all the leading digital service providers in North America and across multiple platforms. Shout! Factory owns and operates Shout! Factory Productions, Scream Factory, Shout! Factory Kids, Shout! Factory Films, Mystery Science Theater 3000, Timeless Media Group and Shout! Factory TV. These riches are the result of a creative acquisition mandate that has established the company as a hotbed of cultural preservation and commercial reinvention. Shout! Factory is based in Los Angeles, California. For more on Shout! Factory, visit shoutfactory.com.
# # #
Contact:
Tom Chen, Shout! Factory (310) 979-5602/ tchen(at)shoutfactory(dot)com