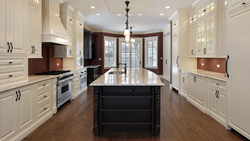 The Virginia-based kitchen remodeling firm promises to help global communities by teaming with up with local charities and non-profit organizations.
(PRWEB) June 29, 2016
GBC Kitchen and Bath is thrilled to announce its philanthropic initiative, a campaign to support various charitable institutions with the goal to make a positive impact on the industry and community.
GBC Kitchen and Bath has a core set of values that are adopted to foster an ethical and respectable business. These values include social responsibility, integrity, and compassion to the community. According to GBC Kitchen and Bath founders, these values mirror the fundamentals of a quality life, something that all people aspire for.
GBC Kitchen and Bath founders believe that the kitchen remodeling business does not revolve around designing the perfect living space for homeowners alone. The company's primary objective is to touch the heart of its customers through the spirit of philanthropy and volunteerism. The owners of GBC Kitchen and Bath carefully selected all the charitable institutions that have a significant impact on their clients, promising to offer more than just monetary donations.
At the moment, the kitchen remodeling company, which is based in Alexandria, Virginia, is teaming up with three local and international charitable institutions: Fairfax Fraternal Order of Police Associates or FOPA, Water Well Projects for Africa, and Disabled American Veterans.
Helping Law Enforcement Officers
FOPA is an organization that promotes the understanding of the rights, duties and problems of law enforcement officers to foster respect for the authorities and promote better working conditions. GBC Kitchen and Bath is supporting FOPA's cause by providing a portion of its profits to fund the organization's many charitable programs. Thanks to donations, FOPA is able to conduct a variety of community programs that benefit the underprivileged including youth sports programs and women's self-defense trainings. FOPA affiliates are also providing funding of school supplies for poor children, research treatments for autism, and other programs geared towards cancer survivors.
Together with FOPA, GBC has established a collaborative relationship to develop a safe and friendly environment for the community. The company is also driven to offer more opportunities to establish the values of good citizenship.
Building Better Lives for African Children
GBC Kitchen and Bath is a long-time supporter of Water Well Projects for Africa. This international non-profit organization supports displaced and poor Ethiopian and Somalian children and refugees. Water Well Projects for Africa funds various campaigns to meet water and nutrition needs in Africa.
The water crisis in Africa is affecting whole towns, putting children and women at risk of developing various diseases. The fact is, comprehensive, sustainable water projects cost time, commitment, and significant investment from compassionate people who are willing to help.
Currently, there are over 400,000 Somalian refugees in Kenya. GBC Kitchen and Bath forged a partnership with Water Well Projects for Africa to provide safe drinking water for over 2 million children in refugee camps.
The water crisis has robbed entire African communities of their livelihood and futures. GBC Kitchen and Bath looks beyond providing best-in-class services to its loyal clientele by supporting organizations like AFTAA and its affiliates to deliver much-needed aid to families affected by extreme drought in the continent.
By teaming up with the Water Project, GBC is part of a network of philanthropic businesses that helped create new wells, rehabbed wells, sand dams, rainwater harvesting systems and/or spring protections for schools, medical clinics and villages. The program promotes proper sanitation, as well as food production and education to poor families in the region. Together with the Water Project, GBC is developing long-term, sustainable projects to help people get access to clean water, especially among women, children, and farmers in Kenya, Ethiopia and Uganda.
Offering Support to Disabled War Veterans
GBC Kitchen and Bath has also pledged support to Disabled American Veterans. DAV is a non-profit organization that provides a lifetime of support for war veterans and their families. The organization is dedicated to building better lives for disabled veterans. Part of the charity's initiative is to empower veterans to live a life with respect and dignity.
Thanks to countless generous donors, the organization was able to provide 700,000 rides for the sick, disabled, and injured veterans and assisted more than 300,000 benefit claims every year. Last year, DAV has generated more than $4 billion in new and retroactive benefits. GBC Kitchen and Bath is deeply committed to making a difference in the society, instilling the value of goodwill and setting an example in the industry by sharing time, talent, and monetary support to organizations like DAV.
Apart from supporting these causes, GBC Kitchen and Bath participates in various charity efforts, including programs conducted by schools and other charitable organizations. GBC Kitchen and Bath is also offering volunteer work and financial gifts to local schools and provides scholarship grants to qualified students.
More than Just Kitchen and Bath Remodeling
Being in the remodeling business for over a decade, GBC Kitchen and Bath is always searching for ways to serve society better. The company understands the importance of helping the community. Part of the GBC's initiative to give back is to develop socially responsible programs to inspire others to make a difference in other people's lives. These programs include the firm's pro bono work and charitable contributions with the goal to making a larger impact within the communities where GBC Kitchen and Bath employees live and work. All these philanthropic efforts mirror the firm's objective to make a difference in the world.
For GBC founders, giving back is not just a concept. Years spent making beautiful homes made them realize that the company can do more than just develop award-winning living spaces. According to Serkan Keskin, the founder of GBC Kitchen and Bath, "We care about others and do what we can to help them. We share our time, talents, and money with people in our community so they can have better lives, and we have fun doing it. Our financial giving helps individuals, schools, and organizations accomplish their goals for the benefit of families and the entire community."
Award-Winning Service
Since starting the company's initiative to donate to various charitable institutions, GBC Kitchen and Bath was able to establish itself in the community as a trusted remodeling and interior design service. Thanks to years of providing volunteer work, exemplary design and building services, GBC Kitchen and Bath received top honors from prestigious award-giving groups.
GBC is one of the recipients of the 2016 Best of Houzz award. Houzz is a leading interior design and architecture magazine with an online community comprised of millions of users from around the world.
Each year, Houzz recognizes the best home and remodeling professionals in the business. The award is backed by some of the most respected names in the home building, architecture, landscaping, interior designer and home remodeling industries. This year, GBC has received an award for excellent customer service.
In addition, GBC Bath and Kitchen remodeling agency also topped the 2015 Angie's List. Angie's List is a US-based, paid subscription supported website that offers crowd-sourced reviews of local businesses on the web. Angie's List has over 70,000 subscribers and 3.2 million paid members. Each year, Angie List analyzes the highest rated in the industry, listing down acclaimed companies in various categories. GBC earned the website's Super Service award in 2015.
The Washington Post has highlighted GBC Kitchen and Bath's pursuit of making people's lives better with an award. These awards are a testament to the firm's commitment to changing the world for the better, one community at a time.
Despite years of doing volunteer work and promoting goodwill, GBC Kitchen and Bath is not slowing down on its philanthropic efforts. In fact, the company is setting its sights to helping more charities and non-profit organizations in the years to come. GBC Kitchen and Bath founders believe that social responsibility is not just reserved for larger, multi-national companies. Even family owned businesses like GBC can contribute to society and help underprivileged families all over the world. As a company centered on honesty, accountability and integrity, BGC is motivated to bringing people closer together through quality service and generosity.
About GBC Kitchen and Bath
GBC Kitchen and Bath specializes in bathroom and kitchen remodeling. With more than 15 years in the business, GBC is one of the most trusted remodeling contractors in the industry. The company offers a wide range of products and services, including flooring, kitchen, and bathroom renovations.
GBC Kitchen and Bath provides kitchen and bathroom planning, design, and construction, eliminating the need to hire subcontractors for remodeling living spaces of any size. This award-winning kitchen remodeling agency has three showrooms located in Virginia and Maryland.
To learn more about the company or to schedule a showroom visit, please call (703) 750-1188, (301) 264-6843, (703) 574-9070 or go to http://gbckitchenandbath.com/