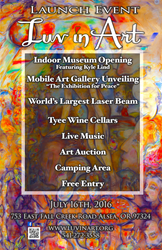 Luv In Art is celebrating the opening of its private Museum and Touring Art Gallery on Saturday, July 16th and heralding the coming of master artist Kyle Lind with the brightest laser in the world!
Alsea, OR (PRWEB) July 13, 2016
Luv in Art announces the opening celebration of its private museum and touring art gallery. The museum opening will take place on Saturday, July 16, and feature renowned artists Kyle Lind with the brightest laser beam in the world.
The launce event will take place on the country estate of Dale E Cripps, nestled within the beautiful Siuslaw National Forest (753 East Fall Creek Road, Alsea, OR). Tye Wine Cellar's delicious Pinot Noir and Pinot Gris will be available, Eugene Magazine will host a live art auction, live music will be performed and much more!
The Luv in Art Museum is the brainchild of Dale Cripps. Born from the inspiration of Lind's craft, the gallery will be dedicated to his works.
Praised as the Father of Process Art, a method where art emerges over a period of time, Lind is widely known amongst his West Coast peers for his involvement in the Love in Movements. When the counter cultures of the 60s exploded on the scene, he was there to absorb and contribute to the vast movement that raised eyebrows across the nation. Standing side-by-side with such idols as Frank Zappa, Timothy Leary and Salvador Dali, Lind's remarkable life with these celebrated artists is minutely chronicled in his master book, "God Art Me Fun." This phenomenal book will be on display in limited quantities and be available for purchase by devotees of art.
"Good wines remember the grapes of their origin" and Tyee Wine Cellars, a flourishing five-generation vineyard in Corvallis, will be represented with their delicious Pinot Noir or Pinot Gris while accompanied to the live music that will be playing throughout most of the day.
Piercing the night sky with different colors and flashing effects will be the Nu-Salt Laser Space Cannon, the brightest laser beam in the world. Suitably named the "Space Cannon," the beam can be seen from neighboring cities, neighboring states and far into the depths of space.
"I like to think of it as sending our light back to the universe," states Mr. Cripps. "It will be a beacon leading the way to Luv in Art's celebration — we hope it leads you here!"
Currently the mobile art gallery is mapping out the national tour of art events and festivals.
See more about who Luv in Art is at our Facebook page: http://www.facebook.com/Luv-In-Art
For more information, please visit our website at http://www.luvinart.org/.