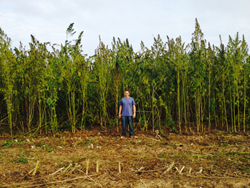 Not only revolutionary for the hemp industry, this is a top-notch quality control system for the dietary supplement industry at large. With incidences of mislabeling occurring all too often, we successfully eliminated the consumer risk in these regards.
BROOMFIELD, CO (PRWEB) July 27, 2016
Bluebird Botanicals announced today it has launched a quality control system unlike any other in the hemp-CBD industry. This new system provides open access to detailed, third-party laboratory analyses of every ingestible and vaporizable hemp product manufactured by the company. Each set of analyses includes testing for cannabinoid potency, microbial life, mold, heavy metals and pesticides, and is available on Bluebird's website.
Public records from the FDA show that many CBD companies produce products with 0% of the labeled ingredient, but Bluebird has addressed this growing public concern with their revolutionary batch system. 100% of the ingestible and vaporizable hemp products produced by the company have batch numbers stamped on the bottom of each bottle, the analysis of which is easily accessible by visiting their online batch database. No more guesses, estimations, or risks; hemp consumers can now know exactly what they're consuming if they purchase from Bluebird Botanicals.
The company built a state-of-the-art laboratory in Broomfield, CO last year where it does all its product manufacturing in-house. Many CBD oil companies outsource their manufacturing, which leads to poor quality control and lack of oversight by the actual companies selling the products. To learn more about Bluebird's industry game-changing batch system, visit here-https://bluebird-botanicals.com/industry-game-changing-lot-batch-system/.
About Bluebird Botanicals
Gaia Botanicals LLC, d.b.a. Bluebird Botanicals, located in Broomfield, Colorado, is a pioneering company that since 2013 manufactures, markets, and distributes hemp-derived cannabinoid products that are used for nutritional and research purposes in a global market. A private company with only fifteen employees, in the first two quarters of 2016 Bluebird did over $2.5MM in gross sales and recently hit over $500,000 in one month. Additional information is available by visiting http://www.bluebird-botanicals.com.
LEGAL DISCLOSURE
Bluebird Botanicals does not produce, sell or distribute any products that are in violation of the United States Controlled Substances Act (US.CSA). The company is involved in the growth, production and sale of legal industrial hemp-derived products.
CONTACT INFORMATION
Brandon Beatty
Chief Executive Officer
Bluebird Botanicals
720-726-5132
brandon(at)bluebird-botanicals(dot)com