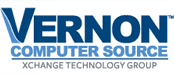 Stamford, CT (PRWEB) July 27, 2016
Vernon Computer Source has once again showcased their outstanding ability to deliver an order that most other computer rental companies would deem impossible. In a one day event, Vernon Computer Source supplied a total of 677 retailers across the USA with 42". These LCD displays went to retailers in strip malls, enclosed malls, and other retail stores from coast to coast. For 75 of the locations, Vernon Computer Source sent technical staff armed with their tool belt to install the 42" LCD Displays on site. These 75 location installs were conducted simultaneously within a span of only 7 hours on August 5, 2010. The following day, Vernon Computer Source technicians returned to all 75 retailers to uninstall the 42" LCD displays.
In the past, Vernon Computer Source has taken on a couple of other noteworthy orders.

During election time in Canada, an order of more than 2,000 notebooks was delivered and set up for use.
More than 1,500 Dell desktop computers were supplied to summer camps across the USA.
The computer rental industry is a very niche market segment. No other company in this market segment would be able to deliver such a large order in a timely manner, as Vernon Computer Source has been able to successfully conduct. Vernon Computer Source's parent company, Xchange Technology Group LLC (XTG), is partly responsible for the ability to fill such orders. The financial backing provided by XTG allows Vernon Computer Source to offer a variety of rental options and products. It is this bond that allows Vernon Computer Source to stand out among its competitors on the large scale.
For over 20 years, Vernon Computer Source has been a trusted company in the computer rental segment of the market. They are loyal to their customers, provide 24/7 technical support, and are flexible with rental agreements. Contact Vernon Computer Source to get a quote for your next computer rental or for any additional information by any of the following means of communication:
###