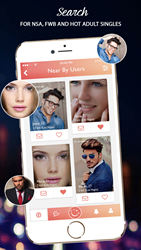 A zing only happens once in your life. The world is not changing. We are changing the world!
New York (PRWEB) August 22, 2016
Meeting someone special in the wild world of online dating just got a little less mysterious and a bit more exciting. Meet ZiNG, the easy and brand new dating app that looks to shake-up the way people online date, for a zing may only happen once in a lifetime. With plans to make a big splash in the online dating industry, the New York-based ZiNG creators just announced the release of the dating app, ZiNG, which looks to appeal to any and all adults interested in meeting someone new to connect with. With ZiNG, adult singles can find the perfect date to best suit what they might be looking for in a match.
Everyone has their own specific dating profile, and it can be difficult to find a platform that will cater to different interests. However, ZiNG was created to be one of the best dating apps that can appeal to a broad variety of profiles for all adult singles, and it is this user-friendly focus that is changing the world of online dating. As one of the creators of ZiNG said: "The world is not changing. We are changing the world!" For example, if a user is looking for something serious, casual (or somewhere in-between), ZiNG can help locate the best match available. Location doesn't make a difference, as the geolocation feature of ZiNG allows users to connect with anyone, anywhere they go, at any time, from a favorite space at home, to an exciting adventure abroad whilst traveling the world. So no matter where someone is, ZiNG can help them meet someone new with the dream date, ensuring that for ZiNG, it's not the place that really matters, but the person.
There are many features which make this newly released product nothing short of revolutionary. For starters, there are new ways to enhance and personalize an online chat, as users can now send and receive photos and short videos. A live video stream is available as well, so those chatting can get to know each other before meeting up. Additionally, ZiNG users can now utilize their Facebook photos to customize their dating profiles, as they can easily import photos from Facebook, making it easier to connect with the world of social media. Even better, connection within a location has never been so easy, as a quick and instantaneous search brings up all of the people nearby, providing the chance to find, chat, and flirt with someone who seems compatible.
ZiNG is not just a dating app, but an opportunity for adult singles to meet someone unforgettable, and this newly released product looks to transform the industry that it is entering, making dating easier and more user-based.
For more information on downloading the app for free, click here
About
HI OR BYE, LLC is a New York-based startup company primarily interested in the dating app industry and was founded in 2015. ZiNG is compatible with iPhone and iPad platforms, and users must be at least 17 years of age to download.