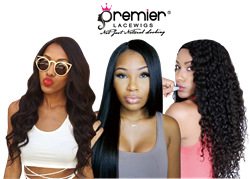 PREMIER LACE WIGS-Not Just Natural Looking
Qingdao (PRWEB) August 17, 2016
Premierlacewigs.com begins to make affordable human hair wigs. The company mainly sold expensive full lace wigs and lace front wigs before. Although their quality is good, their sales still have declined by 20-30% approximately because of the ongoing global financial crisis. Customers don't want to pay $200-$300 any more for a wig, so Premierlacewigs.com launched their new section of affordable human hair wigs.
Their affordable wigs are made with human hair. On their site, clients can see all affordable wigs are made of Indian remy hair. Indian remy hair is a popular hair type which is of good quality and affordable.
Their affordable wigs look natural because of the special cap constructions. In their affordable wigs section, they mainly sell lace part lace wigs and silk part lace wigs. Lace part lace wigs have 3.5 inches lace in the front for parting, and silk part lace wigs have 4 inches silk in the front for parting.
Their affordable wigs have varied hairstyles. They have long style, bob style, ombre style, straight hair, wavy hair, kinky hair and curly hair.
Their affordable wigs are reasonably priced and some wigs are even under $100 with free shipping worldwide. Customer Crystal David said in a review: "I don't want to pay $300 for just one wig, which is too expensive. Now I only spent $87 buying a wig from Premierlacewigs.com which is also made of 100% whole human hairs and looks very natural. I love it so much and will recommend this to everyone." In addition, Premierlacewigs.com also provides a $10 off discount code for customers who followed their social medias.
About Premierlacewigs.com
Premierlacewigs.com is a leading manufacturer of super quality human hair lace wigs & extensions in China. Because they have their own factory, the price of their wigs and hair extensions is reasonable for factory direct sales. Other than affordable wigs, they also have full lace wigs, lace front wigs, silk top wigs, thin skin wigs, glueless lace wigs, celebrity style wigs, hair weaves, and closures.