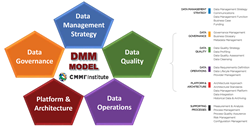 "Sandhill Consultants is one of our key partners, bringing a mix of practical experience and innovative approaches to the Data Management space in which clients live." - Melanie Mecca, Director of Data Management Products and Services, CMMI Institute
(PRWEB) August 18, 2016
CMMI Institute is pleased to announce Sandhill Consultants as the first Data Management Maturity Partner in Canada and Great Britain to graduate a certified Enterprise Data Management Expert (EDME).
Sandhill Consultants helps Data Strategists evolve their companies to become leading data driven organizations. Companies struggle to identify where their current data management capabilities are, and how to improve upon them. The EDME certified practitioner is a dual certification from CMMI Institute allowing Sandhill's certified practitioner to lead Data Management Maturity (DMM)℠ assessments and the resulting data management capability improvement programs. Sandhill Consultants provides data management expertise and services to the USA, Canada, Ireland and the UK clients.
Sandhill's CMMI DMM offering provides:

Accelerated data management process improvement.
Collaborative process between Business and IT.
A roadmap for data management process improvement.
Clear understanding of Data Management practices.
Engagement with the lines of business.
Alignment with business mission goals and objectives and data management programs.
Identification of critical needs for data management program improvement.
Quick wins, high value recommendations, strategic initiatives.
The key to successful capability building for data management is achieving an effective return on opportunity for data governance efforts, and delivering trusted reliable data.
The Data Management Maturity (DMM)℠ is a reference model framework of fundamental data management capabilities. The DMM assessment is a measurement instrument for organizations to evaluate capability maturity, identify gaps, and incorporate guidelines for improvements.
The DMM methodology consists of:

Collaboration workshops with broad range of stakeholders
Evaluation of data management capabilities collectively by consensus affirmations
Facilitation to achieve common understanding and unified vision
Solicitation of key business strategic input through supplemental interviews
Verification of capabilities through work product reviews (evidence)
Reporting and executive briefing which present the scoring, findings, observations, and targeted recommendations.
Sandhill provides guidance to assist with the creation and implementation of data management program initiatives in support of the DMM Assessment recommendations.
Sandhill brings to the table an extensive knowledge of Data Management practices, allowing Sandhill to quickly identify and provide clarity to the assessment process. This uniquely qualifies Sandhill to provide implementation direction.
Sandhill's seasoned professionals' focus continues to be on assisting clients with their data management practices such as Data Architecture, Data Governance, Metadata Management and Data Warehousing.
Melanie Mecca, Director of Data Management Products and Services, CMMI Institute, says that "Sandhill Consultants is one of our key partners, bringing a mix of practical experience and innovative approaches to the Data Management space in which clients live."
Derek Strauss, Chief Data Office of TD Ameritrade, says "Sandhill Consultants and the CMMI/DMM have been fundamental in our journey into deeper levels of data management maturity. We needed a good frame of reference to understand where we were, where our competitors were, and where we needed to drive improvements in the way we manage and utilize our Data Resource so as to realize business value. In addition, we needed an impartial external Assessor who could clearly articulate the framework and help pinpoint opportunities for both business and IT communities to establish quick wins as well as tackle the more strategic goals. Sandhill Consultants delivered on all counts!"
About Sandhill Consultants
Sandhill Consultants provides industry-acclaimed enterprise modeling and data architecture solutions, services, training, modeling standards and best practices frameworks. Sandhill is a certified CMMI Institute Partner that offers Data Management Maturity (DMM)℠ model assessments to organization's looking for a graduated path to Data Management process improvement that is tailored to an organization's Business.
Please visit our webpage at http://www.sandhillconsultants.com/DMMassessment.asp
Media Contact:
Robert Lutton
Sandhill Consultants
905-847-5882
Robert.Lutton(at)sandhillconsultants.com