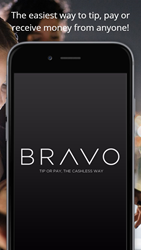 "Digital tipping is an untapped mobile payment market," said Maria Luna, CEO and co-founder of Bravo Tip or Pay
Phoenix, AZ (PRWEB) August 29, 2016
Bravo Tip or Pay will introduce the first and only patent-filed GPS Payment gateway at Mobile Payments Conference – Renaissance Chicago Downtown Hotel, Chicago, Illinois, August 29 – August 31, 2016, booth #13. Maria Luna, the Chief Executive Officer and Co-Founder will speak August 30th at 4:45 pm at the keynote panel: The Digital Wallet Yard Sale.
Bravo allows anyone, at any time, to pay or tip right from their smartphone in seconds. The mobile app has eliminated the need for swiping cards, paying for expensive terminals, or exchanging personal information; the money goes straight into one's bank account and never sits in a text or email, thus eliminating the risk of being hacked. The data is always encrypted and tokenized for security. In addition, the app has a security PIN, and sensitive data is not stored at Bravo Tip or Pay servers or smart device.
"Digital tipping is an untapped mobile payment market," said Maria Luna, CEO and co-founder of Bravo Tip or Pay. "Bravo is tapping into the significant market of gratuities. Bravo solves a big problem for service workers—these workers can be missing tips from their customers without carry cash, ranging from twenty to sixty-five percent of the time, but for many of them, gratuities represent over 50 percent of their income, which could mean school supplies, clothes, food on the table or gas in the car."
Bravo Tip or Pay users have reported an increase in gratuities captured, morale and repeat business. Users include service professionals, musicians, car drivers, valet, hospitality staff, pedicab drivers, nail technicians, caddies, food lovers, business travelers, and college students, among others.
To use Bravo Tip or Pay, download the app at no cost from the App Store for iPhone and Google Play for Android Devices by visiting http://www.TryBravo.com.
About Bravo Tip or Pay
Founded by serial entrepreneurs Hector Rodriguez and Maria Luna in 2013 and headquartered in Phoenix, Ariz., Bravo Tip or Pay offers a smart gratuity solution for a fast-paced, mobile-driven consumer base—the cashless tipping and payment application with social purpose. The app allows users to simply, safely and discretely provide the payment in whatever dollar amount desired and rate their service experiences on a five-star scale. Bravo Tip or Pay provides security and peace of mind for service industry professionals with the ability to avoid carrying large sums of cash. The company is expanding from Arizona to California, Colorado, Florida, New York, and Texas among other states. Bravo Tip or Pay is available for download on Android and iOS devices from the Google Play and Apple iTunes stores. For more information on Bravo Tip or Pay, visit trybravo.com.
###
Media Contact
Stephanie Rodriguez
Phone: 480-370-8800
Email: pr(at)trybravo(dot)com