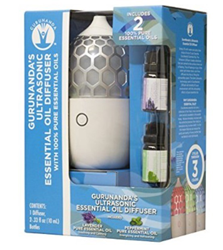 Currently, there is a special deal on groupon.com for this starter kit. This gift of health will also be on sale at Christmas, and can be purchased at Walgreens, Shopko, and Fry's Electronics, as well as online at www.gurunanda.com.
(PRWEB) September 23, 2016
In a world full of stress, work, and headaches, it can sometimes feel nice to be told to relax. That's where GuruNanda comes in, the company that encourages everyone to: "Move. Laugh. Breathe." GuruNanda, the brand started by yogi and award-winning entrepreneur, Puneet Nanda, continue to espouse this philosophy, as they have recently introduced the HoneyComb diffuser, the latest in their series of ultrasonic essential oil diffusers.
The HoneyComb diffuser is just the latest model in a series of ultrasonic essential oil diffusers that have become immensely popular. The HoneyComb diffuser is meant to relieve stress and anxiety, transforming the lives of those who own it by taking on a 100% holistic approach to a personal nirvana. The starter-kit that comes with the diffuser is ready-made for anyone looking to begin this path to transformation, as it is packaged with two tantalizing blends of lavender and peppermint oils. These oils are 100% pure and natural, which provide for a completely natural aromatherapy experience.
The scents come from farms on all corners of the world, as the lavender has been procured from Bulgaria, while the peppermint is taken in from a farm in India. It is important that the diffuser does not interfere with the organic nature of the oils, so GuruNanda has created a modern and novel design that is sure to soothe the senses whilst diffusing the mist.
This unique design creates a mist of water, along with the nanoparticles, which disperse into the air via ultrasonic waves. No heating or marring of the scents is involved, thus allowing the true nature to diffuse the air, and the therapeutic oils to be absorbed directly. While others have tried to imitate the design, this diffuser has a unique heavy duty ultrasonic plate that gives it a more durable, long life. Additionally, the comforting, dimmed LED light creates a relaxed environment for the user.
While essential oils have become particularly popular recently, the actual history of these oils is a tale as old as time. In fact, the therapeutic usage of essential oils dates back to biblical times. The power of essential oils holds true in GuruNanda's brand. Everything about the packaging and maintenance of the bottles ensures the purity of these oils, as the oils are double quality-tested and are packaged directly from Los Angeles in small, amber glass bottles to preserve the therapeutic properties of the essential oils. Meanwhile, the caps are imported from Germany with the dropper inside to ensure that there is no leakage. These essential oils work to relax all who use them, as the aromatherapy can relieve stress and provide for a deep sleep.
The GuruNanda brand is meant to be shared. Puneet Nanda selected this name for the brand, drawing upon the Indian word for teacher ("Guru"). Nanda, who is a winner of the 2011 Ernst and Young Entrepreneur of the Year Award, created GuruNanda after rediscovering the joy of yoga, so that he could share his journey to a peaceful state of being with others. Nanda refers to himself as Chief Essential Oil, in a company that is, "dedicated to providing farm to shelf pure essential oils at best prices." He wanted GuruNanda to be an alternative to the large wholesale distributors of oils, offering others a chance to buy oils that come directly from farms. The new HoneyComb ultrasonic essential oil diffuser can help those who use it perform better in their everyday lives, as it works to improve physical and psychological function.
Currently, there is a special deal on groupon.com for this starter kit. This gift of health will also be on sale at Christmas, and can be purchased at Walgreens, Shopko, and Fry's Electronics, as well as online at http://www.gurunanda.com.
About
GuruNanda™ is a line of exquisite oils and diffusers designed to improve health and well-being. The line of essential oils and diffusers are carefully developed and brought to the end consumer with a farm to shelf process. The quality standards ensure that from seed to shelf, essential oils are harvested and delivered with plants and flowers grown with exceptional care. Every oil and diffuser is designed to turn distress to de-stress.