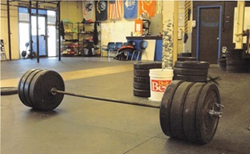 The evidence at trial confirmed that CrossFit conducts no oversight of the affiliates to make sure that the welfare of the participants is being safeguarded.
Kansas City, MO. (PRWEB) September 27, 2016
Rob Sullivan of Sullivan Law LLC, a Kansas City, Missouri based personal injury law firm specializing in catastrophic personal injury cases on behalf of individuals and families, obtained a jury verdict in favor of a local CrossFit affiliate member who was seriously injured while attempting a deadlift. The Plaintiff, Jonas Barrish was also represented by attorneys Bianca Sullivan of Kansas City and Amir Ardebili of Kansas City. The lawsuit, alleging negligence against Sky's Limit Fitness LLC dba Sky's Limit CrossFit and negligence against CrossFit Inc., was filed in the Circuit Court for the 16th Judicial District, Kansas City, Jackson County, Missouri, Case No.: Case No. Case No. 1316-CV14357 before the Honorable John Torrence.
The national company CrossFit Inc. has been found at fault for an injury suffered by a CrossFit participant at one of the company's 10,000 worldwide affiliates, a Jackson County jury returned a $400,000 verdict against CrossFit Inc. of California and its affiliate gym Sky's Limit Fitness LLC of Kansas City, dba Sky's Limit CrossFit in a suit brought by Jonas Barrish after the former gym member suffered a serious spinal injury while participating in the CrossFit brand extreme fitness program.
The CrossFit affiliate did not have a signed release or waiver disclosing any of the inherent risks, or the increased risks of lifting heavy weights. Documents admitted in evidence from CrossFit Inc. headquarters promoted the system as safe for everyone. None of the CrossFit training manualsIn admitted in evidence contained any information or training provided to the individual affiliate owner on the injuries and risks associated with the Olympic and powerlifting movements that were part of the CrossFit program that the plaintiff was participating in at the time he was injured.
According to the CrossFit Affiliate Agreement, admitted in evidence at trial, individual affiliate owners were authorized to open CrossFit affiliates, using the CrossFit trademark, after attending a 2-day training program and paying a $3000 annual fee. Corporate document admitted in evidence at trial also confirmed that CrossFit did not prescribe any specific programs that the local affiliate was required to use and did not conduct any oversight of the local affiliate to monitor the the coaches supervising the CrossFit classes that the plaintiff was participating in when he was injured.
In the verdict handed down in Barrish v. Sky's Limit CrossFit, 9 of 12 jurors found in favor of plantiff Barrish, who chose the CrossFit workout in part because of promised supervision from a trained CrossFit professional with the experience and training of CrossFit Inc. behind him. The jury awarded a total of $400,000, assigning 50 percent fault to plaintiff Barrish, 25 percent fault to local gym Sky's Limit CrossFit and 25 percent the national company CrossFit Inc.
According to testimony presented at trial, Barrish, 36, was attempting to reach a one repetition maximum "deadlift" of 350 pounds when he felt something in his back snap and collapsed. Witness testimony stated that a CrossFit coach attempted to stretch out Barrish's back after he collapsed, in spite of Barrish initially stating that he was unable to feel his legs. A subsequent MRI revealed Barrish sustained an extruded herniated disc with a complicating condition requiring immediate surgery. The condition known as cauda equina syndrome can impede bowel and bladder functions and cause permanent loss of those functions if not treated.
"The difference between my client's injury and a typical herniated disc is that the spine was not simply strained, causing the cushioning material between the vertebrae to simply slip out, but instead this material 'shot out' from between the vertebrae and into the spinal column and surrounding nerves," Sullivan said. "It takes a tremendous amount of force for this type of an injury to happen. It is something that is more typically seen in a traumatic event, such as a bad car wreck."
After surgical correction to his spine, Mr. Barrish can walk normally and has normal bowel and bladder function. However, he does have long-term restrictions; he is unable to do any impact exercising, running or jogging without risking further injury to his back, and he is permanently limited to lifting only light weights. Because of this injury, doctors say he will require a second "fusion" back surgery within the next 10-15 years.
About Sullivan Law LLC
The Firm is based in Kansas City, Missouri but handles serious product liability and other injury cases throughout the United States. Sullivan Law LLC provides its services free of charge unless the victim recovers compensation. To learn more, please visit http://www.sullivantrial.com or call (877) 857-2622.
Media Contact
Krista Klaus | KristaMartinKlaus(at)gmail(dot)com | 913-284-5752