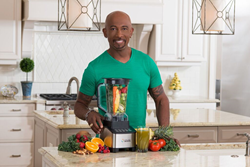 For decades I've been seeking out wellness products to help me live healthier. Now, for the first time, I've created my own line. My goal is to pass along all the knowledge I've accumulated and share my passion for healthy living with others.
TAMPA, FL (PRWEB) September 30, 2016
After years of seeking out effective and innovative healthy living and wellness products for his own health, Montel Williams announced a strategic business decision to develop and launch his own product line. The new line of products, which bears the name Living Well with Montel, was initially unveiled by Montel's new joint-venture company Living Well Products, LLC, at the 2016 International Home + Housewares Show this past March in Chicago.
On October 1st, Williams will debut four of the items in the line throughout the day on leading entertainment and lifestyle retailer, HSN, which will include a new 1200 watt blender/emulsifier, a microwave grill, as well as both an abdominal simulator and a body simulator that are designed to help users tone their abdominals and bodies.
Montel Williams is an Emmy award-winning television personality, decorated naval officer, inspirational speaker, bestselling author, wellness entrepreneur, and health advocate. His Living Well with Montel brand and bestselling books have helped millions of people take the first difficult steps toward a healthier, happier and more fulfilling life.
The goal of Living Well Products, LLC is to make healthy living a convenient and affordable daily choice for consumers by offering quality products at a great value.
Living Well's CEO, Steve Rogai, will leverage his extensive experience in the consumer product space as the brand continues to build out. Said Rogai, "Montel is unique in the celebrity branded product space in that he's trained as an engineer and is able to be a participant in the product development process. He is so much more than an endorsement, he is an owner of the company and gets involved in the products every step of the way. His deep understanding of health and wellness, gained through his journey to change his health through nutrition, makes this so much more than an endorsement."
Living Well with Montel products are now available to U.S. Consumers and will be increasingly available online and in retail. This marks the first time Montel has created his own line of products. Represented in the line are multiple categories such as fitness, nutraceuticals and housewares, with a kitchen line of small appliances that include a personal blender, a pressure cooker, a 3-in-1 multi cooker, a microwave cooker, a frozen dessert maker, and a smokeless portable grill.
Montel, a Naval Academy-trained engineer, was heavily involved in the design of the products, working closely with a team of experts to ensure quality and ease of use.
"For decades I've been seeking out wellness products to help me live healthier," Montel stated. "Now, for the first time, I've created my own line. My goal is to pass along all the knowledge I've accumulated and share my passion for healthy living with others."
CONTACT:
Jonathan Franks
jonathan(at)lucidpublicrelations(dot)com