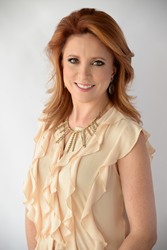 El Paso, TX (PRWEB) February 17, 2016
Elizabeth Dipp Metzger from the El Paso General Office of New York Life, is now authorized to offer AARP branded life insurance and lifetime income annuity products to AARP members. It is the first time these group life insurance products are offered by authorized-to-offer Agents.
Mrs. Metzger is among a select group of New York Life agents who became authorized to offer her clients AARP Guaranteed Acceptance Life; AARP Level Benefit Term; AARP Permanent Life Insurance, all from New York Life and New York Life's Guaranteed Lifetime Income Annuity. Elizabeth Dipp Metzger is a Licensed Insurance Agent and passed courses specific to AARP.
Lizzie was born in El Paso, TX. She is a nationally noted financial professional winning the Four under Forty Advisor Today award and is on the current Top Financial Advisor's list in Latino Leaders. She has also been featured in various publications including CNBC, the Wealth Channel Magazine, National Underwriter, Diversity Today, and Latina Style.
Since 1994, AARP group life products from New York Life have been available via direct mail to AARP members. The Company has also been the provider of group lifetime income annuities to AARP members since 2006.
New York Life Insurance Company, a Fortune 100 company founded in 1845, is the largest mutual life insurance company in the United States* and one of the largest life insurers in the world. New York Life has the highest possible financial strength ratings currently awarded to any life insurer from all four of the major credit rating agencies: A.M. Best (A++), Fitch (AAA), Moody's Investors Service (Aaa), Standard & Poor's (AA+).** Headquartered in New York City, New York Life's family of companies offers life insurance, retirement income, investments and long-term care insurance. New York Life Investments*** provides institutional asset management. Other New York Life affiliates provide an array of securities products and services, as well as retail mutual funds. Please visit New York Life's website at http://www.newyorklife.com for more information.
*Based on revenue as reported by "Fortune 500 ranked within Industries, Insurance: Life, Health (Mutual)," Fortune magazine, 6/15/15. For methodology, please see http://fortune.com/fortune500/.
**Individual independent rating agency commentary as of 8/11/15.
***New York Life Investments is a service mark used by New York Life Investment Management Holdings LLC and its subsidiary, New York Life Investment Management LLC. New York Life Offering Protection and Security Through AARP Products.
AARP is a nonprofit, nonpartisan organization, with a membership of more than 37 million, that helps people turn their goals and dreams into real possibilities, strengthens communities and fights for the issues that matter most to families such as healthcare, employment and income security, retirement planning, affordable utilities and protection from financial abuse. We advocate for individuals in the marketplace by selecting products and services of high quality and value to carry the AARP name as well as help our members obtain discounts on a wide range of products, travel, and services. A trusted source for lifestyle tips, news and educational information, AARP produces AARP The Magazine, the world's largest circulation magazine; AARP Bulletin; http://www.aarp.org; AARP TV & Radio; AARP Books; and AARP en Español, a Spanish-language website addressing the interests and needs of Hispanics. AARP does not endorse candidates for public office or make contributions to political campaigns or candidates. The AARP Foundation is an affiliated charity that provides security, protection, and empowerment to older persons in need with support from thousands of volunteers, donors, and sponsors. AARP has staffed offices in all 50 states, the District of Columbia, Puerto Rico, and the U.S. Virgin Islands. Learn more at http://www.aarp.org.
The AARP Life Insurance and Annuity Program individual life insurance products are issued and provided by New York Life Insurance Company (New York, NY 10010) and individual annuity products are issued and provided by New York Life Insurance and Annuity Corporation (Newark, DE 19713) a wholly-owned subsidiary of New York Life Insurance Company, not by AARP or its affiliates. These products are available to the public. AARP and its affiliates are not insurers. AARP does not employ or endorse agents, producers or brokers.
AARP group life insurance products are available under the AARP Life Insurance Program and are issued and provided by New York Life Insurance Company (New York, NY 10010). AARP Membership is required for Program eligibility. Specific products, features and/or gifts not available in all states or countries. AARP has established the AARP Life Insurance Trust to hold group life insurance policies for the benefit of AARP members. Complete terms and conditions are set forth in the group policy issued by New York Life to the Trustee of the AARP Life Insurance Trust. (Group Policy forms AA-08, AA-66, AA-67, AA-68)
New York Life Insurance Company pays royalty fees to AARP for the use of its intellectual property. These fees are used for the general purposes of AARP.