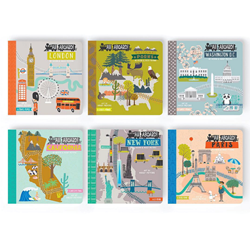 Illustrating my own book series for BabyLit is nothing less than a dream come true for me.
Scottsdale, AZ (PRWEB) March 10, 2016
Lucy Darling has been actively growing its product assortment since January 2014. The most recent addition to the brand's product mix is a board book series called, "All Aboard!". This children's travel-centric series follows a train around the world, finding adventure in every location. The books are written by Lucy Darling's husband and wife team Haily and Kevin Meyers and illustrated by Haily. Each book celebrates the unique qualities of the featured location while employing a fun primer element to tell the story.
"I am thrilled this partnership continues to grow with BabyLit. BabyLit board books are my favorite children's books and I have been inspired by the illustrations since I discovered these books a couple years ago. Illustrating my own book series for BabyLit is nothing less than a dream come true."
– Haily Meyers, Lucy Darling Creative Director and All Aboard! Illustrator
Haily Meyers, had dreamed of being a baby book illustrator for as long as she could remember. In August 2014 when she was at the NY Now Gift Show with her company Lucy Darling, she had a serendipitous run in with the BabyLit publisher. She struck up a conversation with her, not knowing who she was, and a year later, the All Aboard! series was launched with 3 initial locations, Paris, New York and California.
Today the "All Aboard!" series has 6 locations, as the expansion includes, National Parks, London and Washington DC. "All Aboard! National Parks" is a wildlife primer, highlighting the beauty of 9 US national parks. "All Aboard! London" is a travel primer, showing kids the most famous sites of London, and All Aboard! Washington DC , is a capitol primer that features the historical landscape of this great city. The books retail for $10.00 each and are 22 pages long.
About Lucy Darling
Lucy Darling offers baby milestone stickers, art prints for nurseries, nursery closet dividers, and baby memory books. They design all of their own product and print locally in the USA. From monthly baby stickers to nursery art prints, memory books to closet dividers, Lucy Darling is thrilled to offer unique and high-quality products at affordable prices. Visit http://www.lucydarling.com
About Gibbs Smith
For more than 45 years, Gibbs Smith has been specializing in beautifully illustrated lifestyle books covering topics such as interior design, architecture, cooking, children's activity, home, green/sustainable and many more.