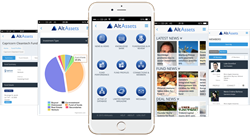 London, UK (PRWEB) January 19, 2016
The AltAssets App is the first of its kind and offers institutional investors, fund managers and deal-makers an extensive set of tools to stay up-to-date with the latest private equity and venture capital news, access essential industry research and connect with peers and colleagues around the world.
The App is currently available on the App Store and Google Play. It offers two levels of membership. Basic membership is free and allows users to review daily breaking news articles, exclusive stories, interviews and research reports produced by AltAssets' experienced team of journalists, as well as a Knowledge Bank comprising over 20,000 stories on the key industry developments of the last decade.
For a fee, users can upgrade to the Premium level of membership, which includes in-depth research tools, such as fund manager profiles, the fund performance database, active LP profiles, the weekly Fundraising & IR Review and Limited Partner Magazine. Premium users can also search for and connect to other verified private equity professionals in the AltAssets Network, allowing them to manage and extend their industry network on-the-go.
Like most other industries, private equity is in the midst of experiencing a 'move to mobile' and clients are becoming more and more accustomed to accessing news and information via their smartphones. The AltAssets App meets both the information and networking needs of clients, allowing them to access relevant services in an easy, efficient and reliable way, wherever they are in the world.
Over the next 12 months, a number of exciting new features will be released onto the App, such as Investor Groups – specialised online portals for investors and fund managers with the same interests to connect and engage.
The App is a natural extension of the existing AltAssets platform, which already connects thousands of LPs, GPs and dealmakers at exclusive face-to-face events and online via the AltAssets LP-GP Network (http://www.lpgp.net). In the last 24 months, more than 150,000 connections have been logged via the Network alone, making it the world's most active private equity investor network by far.
Contact: Richard Sachar, CEO, AltAssets
ABOUT AltAssets
AltAssets is a global investor network that has served the information and networking needs of institutional investors, fund managers and deal-makers for more than a decade.

The AltAssets news service has established itself as the world's most widely used source of online information in the global private equity industry, with 50,000 professionals from over 150 countries accessing news and research each month.
More than 150,000 connections have been logged via the AltAssets LP-GP Network, making it the industry's most active online private equity platform for active Limited and General Partners.
AltAssets has successfully brought together thousands of alternative investment professionals at exclusive, invite-only networking roundtables, forums and summits around the world.
The company is privately held with offices in London and Manila.