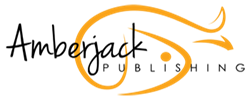 "We're excited to bring a diverse offering to market this year," said Amberjack Publishing Director, Dayna Anderson. "A number of our authors are launching their debut titles, and we've been thrilled with the results. We think readers will be too."
New York City, NY (PRWEB) February 03, 2016
Five fiction titles are planned for a spring/summer 2016 release through Amberjack Publishing (http://www.amberjackpublishing.com), an independent publishing house based in New York with a second office in Eagle, Idaho. The children's titles are published under Amberjack's imprint Little Adventures (http://littleadventuresbooks.com/).
By order of release, the titles include:

Lucky Me, by Saba Kapur – Gia Winters, a young Hollywood starlet, takes readers to the heart of teenage Hollywood angst, as she narrates her love-triangle gone wrong with laugh-out-loud humor, all while Gia hunts down a mysterious stalker. Young Adult, April 5
Tomas & the Galapagos Adventure, by Carolyn Lunn – Encouraging the joy of wanderlust, this beautifully illustrated children's book takes its readers to another world full of exploding volcanoes, friendly pirates, and exotic animals you'll have to see to believe. Children's Illustrated, June 7
What Would It Be Like?, by McArthur Krishna– A must-read for all little girls. Follow one girl as she adventures through the library and learns about amazing women from history who wondered, "What would it be like?" and then went on to change the world. Children's Illustrated, June 28
Stand Up and Whistle, by Phyllis Perry – When seventh grader, Jeannie, learns of construction plans to rid her community of two prairie dog colonies, she takes immediate action. Through her love of animals, Jeannie learns you don't have to be big to make a difference. Middle Grade, July 19
Fever Tree, by Tim Applegate – This work of literary fiction takes readers from the moonlit beaches of Quintana Roo to a historic Florida town, and follows the love story of a painfully private young man zealously guarding and dealing with secrets of his past. Adult, August 2
"We're excited to bring a diverse offering to market this year," said Amberjack Publishing Director, Dayna Anderson. "A number of our authors are launching their debut titles, and we've been thrilled with the results. We think readers will be too."
Amberjack Publishing's 2016 titles will be available online (http://www.amazon.com) and at select bookstores throughout the United States and Australia.
For book sales and distribution, please contact Dayna Anderson, dayna(at)amberjackpublishing(dot)com.